There's no doubt that using socia6l media to promote your podcast is one of the most accessible, affordable, and when done correctly, successful ways to attract new listeners and promote your podcast. While Instagram, TikTok, and several other social media sites have exploded with popularity since Facebook's creation, the social media platform that sparked it all is still among the best places to advertise your podcast. Not sure why exactly? Let's start from there and continue with some tips on how to promote your podcast content on this platform.
Why Choose Facebook Marketing Strategy
You may develop custom audiences and advertising using Facebook's marketing tools to target the people you want. You can create pages to promote and distribute your audio content, as well as groups to help your listeners connect. All you need is the know-how, which is exactly why you've come here, right?  Plus, Facebook has 2.41 billion monthly active users around the world. In fact, 63% of American adults access the platform, giving it by far the most widespread reach of any social network, with 64% of 12-34-year-olds logging on on a monthly basis.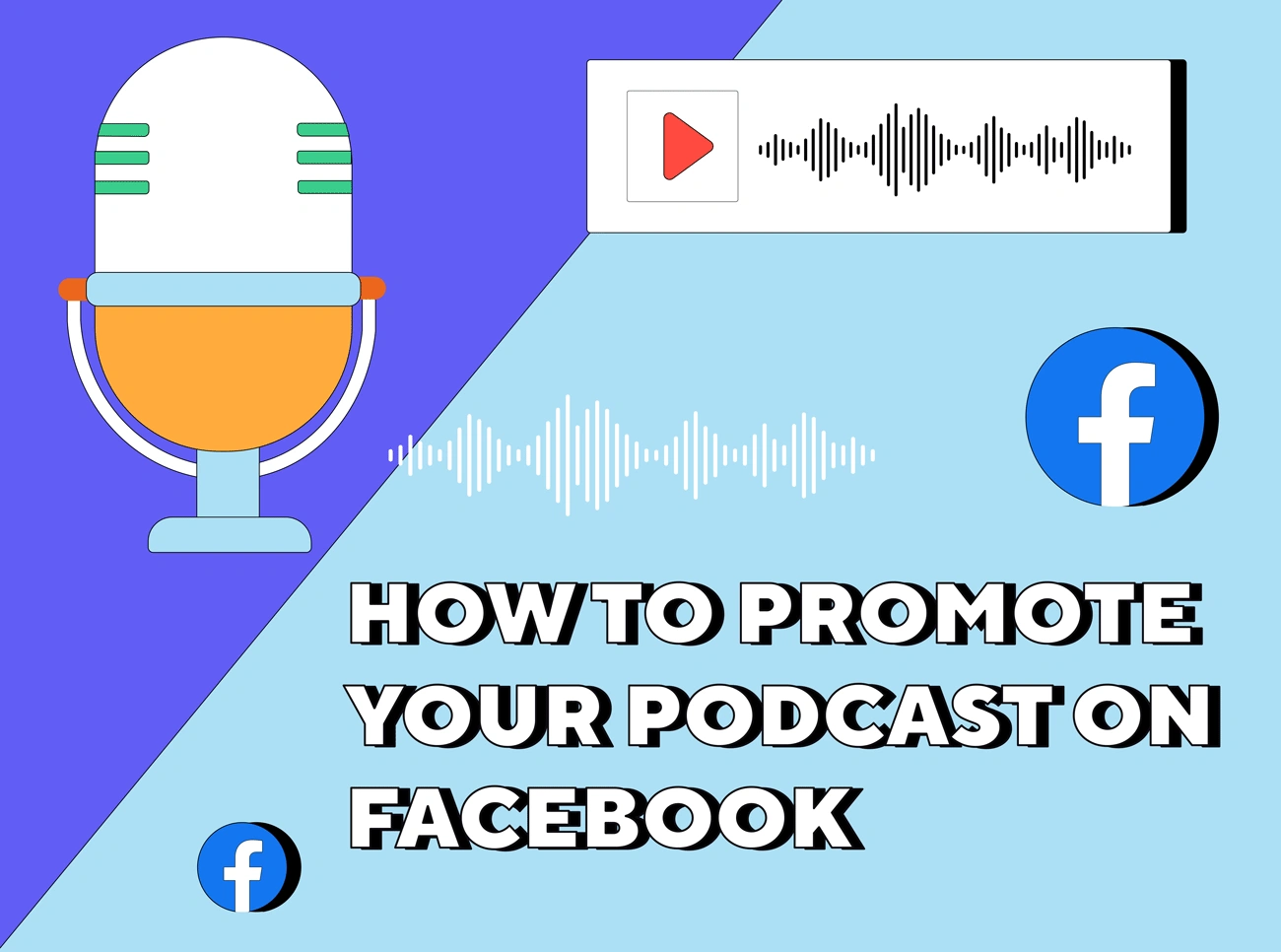 1. Use Facebook Ads For Your Promotion
Facebook advertising is a simple marketing tool that allows you to go very specific with your campaigns. You may not only target and retarget certain demographics using Facebook advertising, but you can also use them to improve web traffic and brand exposure while cutting your podcast marketing costs.
"How can Facebook help me save money on marketing?" you might think. You can track how successful your efforts convert thanks to the helpful Facebook pixel feature, allowing you to improve and retarget without guesswork and wasting money. In essence, a pixel is a bit of code that you install on your website to collect information.
The ability to target a very specific demographic is also one of the most noticeable aspects of Facebook ads. You can upload your customer information data to Facebook's lookalike audience feature which effectively constructs an audience with similar features and behaviors. With these tools at your disposal, you can find qualified leads faster and minimize marketing expenses.
Learning Facebook advertisements may feel like taking a college course in and of itself, but happily, you can raise your brand recognition without feeling overwhelmed by using "boosted posts." You may create an audience and a budget for boosted posts, and Facebook will handle the rest. You won't have to wait until you're ready to start; instead, you'll be able to get into the Facebook ad game while you're learning.
Setting up Facebook Ads: The Basics  
Here are some steps for creating an ad:
Choose your goal: awareness, consideration, or conversion - there will be further options under each of those categories: brand awareness, reach, traffic, lead generation, and so on.
Create your audience: either from scratch or from saved data. If you're starting from scratch, figure out where your audience lives, how old they are, and what their interests are. You can find this information by checking out the detailed analytics of your podcast.
Choose between automatic and edited placement for your advertisements: it's best to go with automatic because Facebook will position them in the best possible location.
Select your budget: unless you have experience with ads or a larger marketing budget, we recommend using the bidding option and establishing start and finish dates with a specific budget.
Decide on a format: a video, a static post, or a slideshow
Work on your ad copy: create a call to action button and a link to a specific landing page in your copy.
Make the best of Facebook groups
With 1.8 billion people using Facebook groups each month, we're confident that this method will help your podcast gain more listeners. You can do this two ways: create your own Facebook group, network in other groups or benefit from both.
Creating your own Facebook group
Facebook groups make it simple to engage with your audience and create a buzz around your show. And by creating a Facebook group just for your show's listeners, you're creating a little hub where they can interact with each other as well as with you, and where they can unite over something they all have in common: a passion and interest for your show. Facebook groups are a fantastic method to strengthen the bonds between you and your audience, as well as a great way to provide additional value to them. This exclusive area serves as an additional incentive to listen to your podcast because they will also easily communicate with you, the creator they admire.
Another way to make genuine connections is to network in Facebook groups by joining and being active in popular podcasting groups. You can also look for particular groups, such as Podcast Guest Collaboration, that are dedicated to helping you find a guest for your podcast interviews. You can make a post in such groups describing the types of guests you're searching for, the topics you'd like to discuss, and how to contact you.
Increase brand awareness
Organic reach is critical for brand exposure Nurturing your organic reach is a long-term strategy for converting targeted individuals into listeners, and then eventually into subscribers.
Is it possible to do a podcast on Facebook?
In a way. Facebook Live is a feature that allows you to record live audio and video. It has updated the technology allowing users to listen without watching thereby transforming live broadcasts into a podcast.

While holding live streams is wonderful for community building, we always suggest recording your podcast audio as usual while simultaneously streaming. You'll know your files are safe, you'll be able to manage the audio quality, and you'll be able to distribute your episodes wherever you want.
Set up a Facebook Page for your podcast to increase brand exposure.
Setting up a Facebook Page for your podcast is arguably the most straightforward and simple Facebook marketing strategy we'll cover in this article. It takes seconds to complete and is a simple approach to begin increasing brand awareness and authority for your podcast.
It's time to take your marketing biz to Facebook!
As you can see, Facebook harbors enormous potential when it comes to reaching wider audiences. Marketing is a multidisciplinary practice, so you can't stand in one place. The sooner you start exploring all these diverse channels, the further you'll get in the podcasting industry.