Forget about making YouTube videos or blogging. It's time for everyone to figure out how to create a podcast, as podcasting is the new trend. If you've already started to record one, then you're certainly on the right track. In that case we'll help you with tips on getting more podcast reviews and growing your audience. If you're new to it and are only thinking about how to start a podcast for free, we have a simple step-by-step guide to help you create your podcast from scratch.
There are quite a few reasons why you need to get podcast reviews and we'll get into the major ones, but first let's figure out how to create a podcast brand that will attract a dedicated audience and make it possible for you to monetize your content.
It's a good mix of ideating, copywriting, marketing as well as technical and other creative processes that goes into building a podcast brand.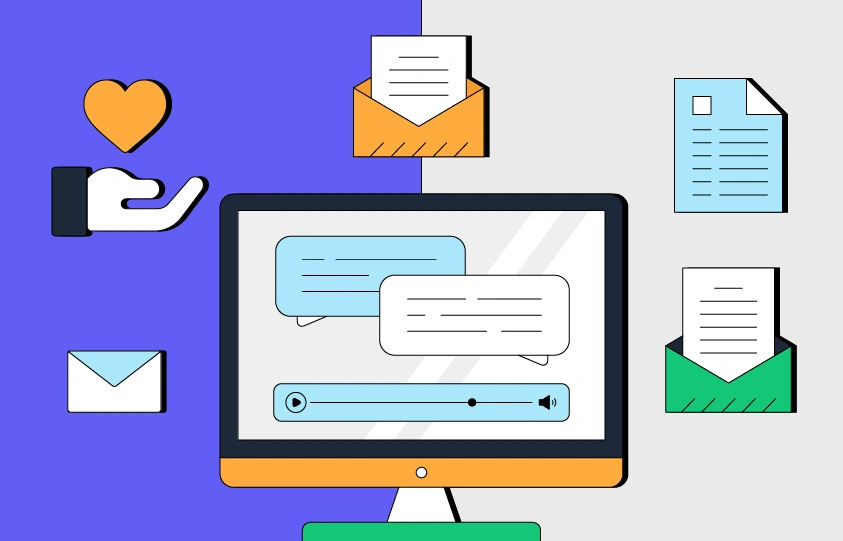 It all starts with a name
Your podcast's name is responsible for the first impression that your show will be making on your potential listeners. That's why you want it to be perfect - not too long, not too short, simple enough to reveal what your podcast is about, but also catchy and a little bit quirky. Brainstorm around the concepts you'll be discussing, the ideologies or beliefs that your show will be based on. Incorporating wordplay into the name is a great way to go. Also, make sure there are no competitors to get confused with your podcast. Changing your show's name wouldn't be the end of the world, yet, unless you're planning an entire rebranding, it will take quite a lot of effort to make your audience associate your show with its new name. So take your time with this one.
Pick with care and speak with passion
If you've decided to create your own show chances are that you already have a  podcast idea you are passionate about. And if you're starting from the other end, then take a good amount of time when choosing your podcast topic. Whether you're trying to get into a niche subject matter or hop on a trend, there's a lot of research to be done. Each case has its own challenges; if your podcast show revolves around a more common topic, you have to study your competitors and choose a format that will make your podcast stand out. And if you've decided to start a discussion on something less popular and more specific, your research should be focused on other niche podcasts and their strategies. The latter will help you figure out how to promote a podcast and find the right audience.
Make engaging content
Easier said, then done, yet, at the end of the day, consistently providing your listeners with quality content is what will keep them coming back. Well-scripted episodes, captivating podcast introductions, interactive content and improvement based on your audience's feedback are the main things you should consider.
A good improvised joke or an unexpected turn in a discussion can be quite the gem. However, that should never be your main strategy. Especially, in the case of an interview format when you're also taking up your podcast guest's time, it's important to have a plan, instead of relying on lucky accidents. Even if you are doing a solo podcast, you'll cut your production time if you prepare before recording. An outline will help you stay on track, not miss out any subtopics you wanted to talk about and save both your recording and editing time.*
A lot of preparation goes into conducting better interview podcasts. Research your guest and previous interviews they've given, if there are any. Try to avoid the beaten down path and prepare podcast questions that will reveal a side of your guest that hasn't been exposed before. Your audience will surely appreciate exclusive content and fresh perspectives.
While we are on the topic, also keep in mind to not steal your guest's spotlight. A podcast host that leads the conversation instead of simply dominating it is a rare find and a great pleasure to listen to. Take it from the masters of interviewing as well as yourself! Rewatching your own interviews and reflecting upon your mistakes is just as useful.
1. Recording a truly engaging intro and an outro is essential when it comes to attracting and not letting go anyone who's pressed play on your podcast. You have anywhere from 30 seconds to two minutes for introducing a passer-by to yourself, your podcast show, the topic of this particular episode and anything else that should be expected. Outros also play a major role in converting one-time listeners into subscribers and getting podcast reviews. This is where you engage with your audience and call them to action. Even if your podcast is the best in its type, sometimes listeners don't think about leaving a positive review on it unless you remind them. That is why having a strong CTA at the beginning and the end of your podcast will help you out. Ask them clearly to leave a review if they have enjoyed your work. You can also explain how reviews help you and why they are important to make them feel more inclined to write them.
2. As for the outros, here you step in to ask your listeners to subscribe, leave a review, suggest future topics or guests, and, why not, partake in a contest for the funniest review or something. It is simple. People love free stuff, so creating a small incentive will further encourage your listeners to share or review your videos. What you offer is entirely up to you! You can give away a free ebook, or maybe a special episode. Whatever it is, it will increase their motivation for leaving a review.
3. You can also incorporate some tunes into your intros and outros. Unless you're planning to create it yourself, it's important to keep up with the many guidelines when choosing your podcast music. One thing to avoid are copyright infringements. With some exclusions, it's still possible to use copyrighted music in your podcast. Yet, if you prefer to do it the quick and easy way, there are a bunch of royalty-free options to choose from. Podcastle's music library is one good place to hunt for crime-free tunes. Make sure the music you choose and its volume doesn't overpower your speech. That's to be adjusted during the editing process, so maybe it's time we get to the technicalities.
Figure out the technology
If you're wondering how to start a podcast and make money, instead of investing a bunch before making any profit, nowadays, there are very few things holding you back from starting your own show. We're talking both hardware and software. Luckily, the second one often provides solutions in case you're lacking professional podcast equipment. If you're willing to invest, an affordable podcast equipment bundle or the simplest microphone kit will do just fine. Here's our advice if you need help picking from budget podcast microphones. There are quite a few tools that will save your time when recording and provide more flexibility such as a podcast mixing board. Yet, with a simple set up, minimal preparation and an AI-powered podcast recording platform you can make your own studio-quality podcast. Setting up a budget-friendly podcast studio in your home is the step that doesn't require much effort, but will take your production quality to another level.
With an audio content creation platform like Podcastle, you won't have to drag your interview guests over to your podcast recording studio. You won't even have to own or rent one. You might wonder how to record a podcast remotely without leaving all the hassle and responsibility to your guest. With Podcastle's most recent feature you can record remote interviews and get separate tracks for yourself and each of your interviewees. You'll appreciate this feature when the time comes to edit your podcast episode. All that a participant needs to do is join the recording with a link. Everything will be auto-saved ready to be polished and published by you.
Pick a flexible podcast editing software
When figuring out how to start a podcast from home and no professional recording equipment a free podcast creation platform is the best way to go. Online podcast recording is the new trend of speech to text software
Take your time with editing
You can be the best podcast host on earth, but the chances are high that your listeners will still get bored after a few episodes. So how do you avoid it?
Good editing is the answer. It's one of the essential aspects of any kind of video or audio content. Even if you create quality content, it fades away if you don't know how to serve it. So, try adding some music and sound effects and making it more fun without overwhelming your listeners.
Here's how to edit like a professional podcaster:
Plan the editing process in advance
You should start planning podcast recording and editing even when you're just beginning to write your script. Think about the ways you would want to transition from section to section and include that in your podcast episode outline. This will help you record your show while keeping the editing process in mind.
During the recording, too, think about the ways you're going to have to combine the different parts of your show together. If you're recording video podcasts and have multiple cameras, try to record your episode from different angles so that you can add dynamics to your video.
Record your interviews with multiple tracks
Try to switch up your podcast format from time to time to keep it more interesting. If you're recording a solo podcast, include interviews and invite guests with different backgrounds to spark thought-provoking conversations. Those guests could be experts in the field, influencers or anyone that can bring some fascinating insights.
However, if you record your interview remotely, don't forget to record it with separate tracks; otherwise, your audio editing process will be quite torture. For instance, if you cough while your guest is saying something important, you might not be able to cut your coughing out, as both of you will be recorded within the same track.
So as we mentioned, with a proper podcast recording platform you won't have to think about the latter.
Give it some time
Some days, you might sit in front of your computer and finish editing an entire episode within 2 hours. But there will also be other times where you might get stuck and spend the entire night editing without getting anything done in the end.
So if you feel like you're wasting your time, shut down your computer and come back later. You might need a little time to put your episode together in your mind. Maybe you'll think of a genius editing solution the next day, during your lunch break. You never know when the right idea will come to you.
Have fun
And don't forget to have fun! Editing is all about enjoying the process, so add some fun sound effects, integrate AI voice skins, and make it entertaining not only for your listeners, but also for yourself.
Get your content out there
When it comes to your podcast promotion strategy, it's safe to say that the more marketing channels you use the better. However, it's best to delegate your efforts wisely, so let's take a look at some of the options.
Consider joining podcast networks
To enjoy the perks of a collaborative community and to make your podcast more accessible to advertisers, you can join a podcast network. Being a part of such a network opens a door to opportunities that you wouldn't be able to access before. Cross-promotions and sponsorships are some of the advantages. Some networks also offer free hosting and an assigned podcast producer. While podcast hosting services are quite a great benefit, revenue sharing and some amount of creative control can be requirements that you don't want to fulfill.
And even though such networks play a big role in podcast monetization, by the end of the day it is all a matter of how much responsibility you're willing to take and share.
Use social media
One of the easiest ways to grow your podcast audience is to create a convenient place for fostering it. Facebook, Instagram, Reddit, and any other social platform where you think you'll find your audience. If you're recording audio only, you can add free graphics, create podcast clips and trailers giving your potential listeners a taste of your show. Social media is also a great place to grow your network and connect with potential collaborators.
Create an RSS feed
Posting your podcast is not as easy as you might think it is. There is no magical "publish" button you can click to get your audio files out there.
Of course, you can create your personal website and post the episodes directly to it, but the most popular way of publishing your show is by creating an RSS feed URL and uploading it to the podcast directory of your wish.

RSS stands for Really Simple Syndication and is basically your podcast feed. It is an XML file that contains all of your published content. Famous podcast directories like Google podcast or Apple podcast usually require you to submit your RSS feed on their platform. Your listeners can also subscribe to it to access your episodes first.
But how do you create an RSS feed for a podcast? It's fairly simple.
It takes only four steps to create one using RSS.com.
1) Create your RSS Podcasting account
2) Click the New Podcast button
3) Include some details on your podcast, choose the cover photo and click "Save and Finish"
4) Once your RSS feed is generated, you can start adding episodes to it
Don't forget to copy & paste your RSS feed URL to the directories or simply share it with your listeners.
Give your podcast a home
Where better to promote your podcast than on your podcast's very own website. While this step is not a necessity considering platforms like Apple and Google podcasts, at some point of your podcasting career it's good to consider creating one. Here you'll be able to publish your podcast episodes, post any updates, contests or information that you want to share with your community and sell your merch in case you have some.
Starting a personal podcast looks both challenging and easy. And to tell you the truth, that's exactly how it is. Your podcast starter kit is right on your computer. All that's required from you are creative podcast topic ideas and a little bit of determination to properly use the best podcasting tools that are available for free. Through hard work and persistence, your podcast's growth is inevitable.