Transcription tools help transform your audio data into text. By providing textual representation of data, it makes it easier for researchers and other users to understand information better and do further research or make decisions. Many tools offer transcription functionality in different ways. The best transcription tools for Mac ensure your transcripts are done well with no or minimum errors. Due to the wide variety of tools available in the market, it can be difficult to choose the best. Here are options of the top preferred software.
1) Podcastle AI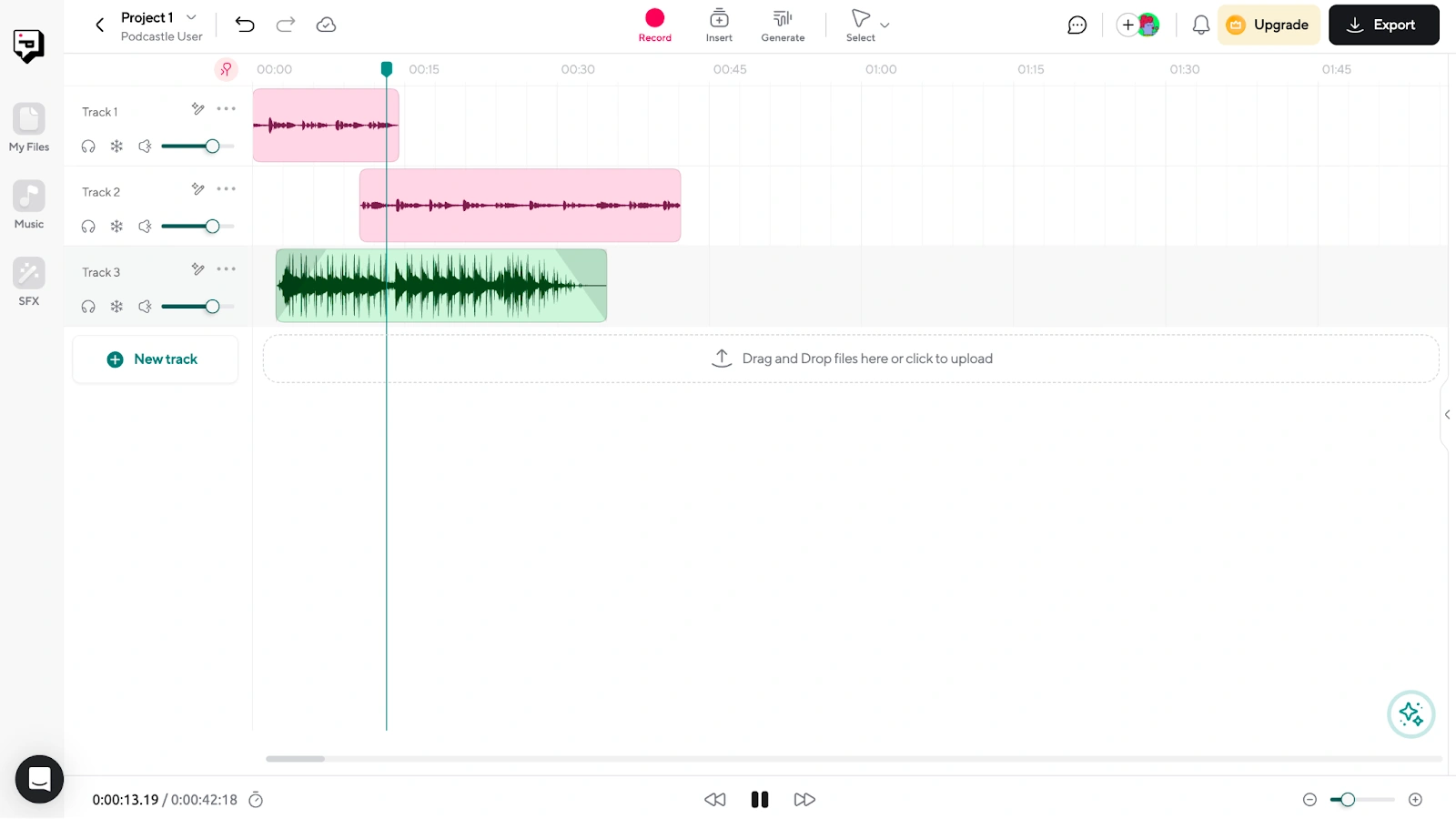 If you want an easier way to create professional and attractive podcasts, using Podcastle is a great choice. This tool allows you not only to transcribe your audio but also to record and edit. It is an AI-powered tool with a wide range of uses. It allow you to import files, record audio, conduct interviews, edit, and transform speech to text. After recording, you just need to select your target file and program the settings. The tool transcribes and generates your text in seconds. It comes with various useful features.
-- Connect with your respondents and do interviews remotely
-- Edit your files from Podcastle's intuitive dashboard
-- HD sound recording capability for super clear audio
-- Expert your files in different preferred formats
-- Convert audio to text in no time
Before you decide on which one to use, confirm if it can work with the Mac operating system. Also, ensure your computer hard drive has enough space for installation. You need to clear any system data files that might not be required on your computer. Ensure the computer has the current version of macOS and that it meets the system requirements. This will ensure you don't experience any hitches during installation or use.
Pricing: Free for the basic account which includes
2) Express Scribe
Express is a great tool when you want to deliver excellent transcription tasks. You can connect it with your hand-held recorders for quick and easy transfer of files. Its free plan makes it a popular software among freelance transcribers and typists. This tool works with a large variety of audio formats. It has a playback button that allows you to adjust its speed when transcribing lectures, dictations, and long interviews. You can download files into the tool from email or portable devices to convert audio to text.

It has a wide range of attractive features.
-- Allows large integrations with different software
-- Allows annotations, file sharing, and archiving
-- Automatic uploading of files and transcription
-- Support multi-languages through AI-NLP capability
-- Generates transcription reports and allows file managemen
3) Descript
Descript is a good choice when you are looking for an all-in-one transcriber and editor. It allows you to upload your files straight into the application and automatically transcribe them. It is also used as a recording device during interviews and meetings. You can use this tool for screen recording and to edit your files on the go. If you want to share your projects, you can have your entire projects in the cloud and share them with your team for real-time feedback. It offers you an array of excellent features.

-- Record audio or screens and transcribe them.
-- Edit your audio or podcasts
-- Share your files on the cloud and get feedback
-- Conduct remote interviews and record them
4) Maestra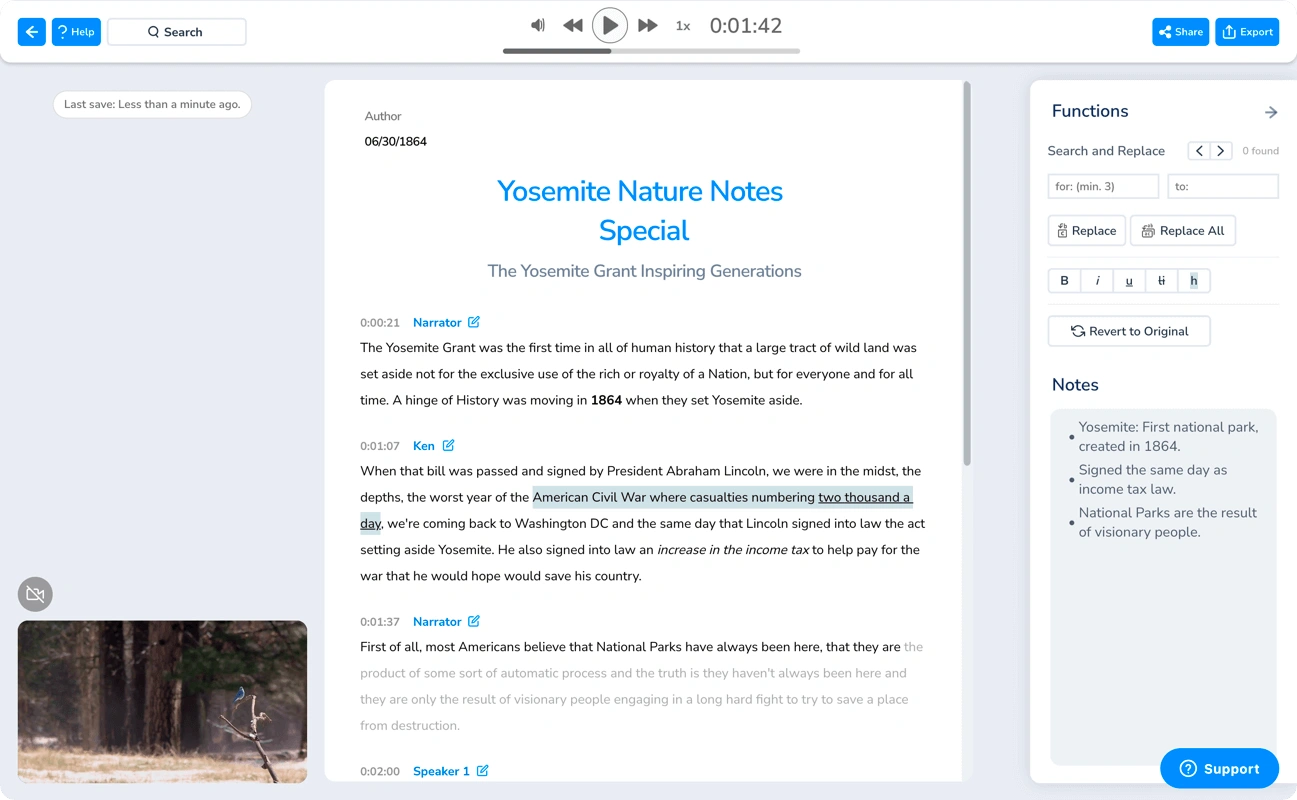 Maestra offers you automated transcription capabilities. It has a voiceover and captioning feature and an AI-powered processor for fast and error-free transcription.  It has an intuitive dashboard and allows fast uploading of files. After downloading your files, you can convert them to text in over 100 languages. If you want to share files, this tool automatically creates links to the documents that you select. It offers a wide range of features to users.
-- Export or upload files in multiple formats
-- Take notes from your transcripts
-- Share transcripts in any format
-- Automatic voiceover, captioning, and transcription
5) Transcriva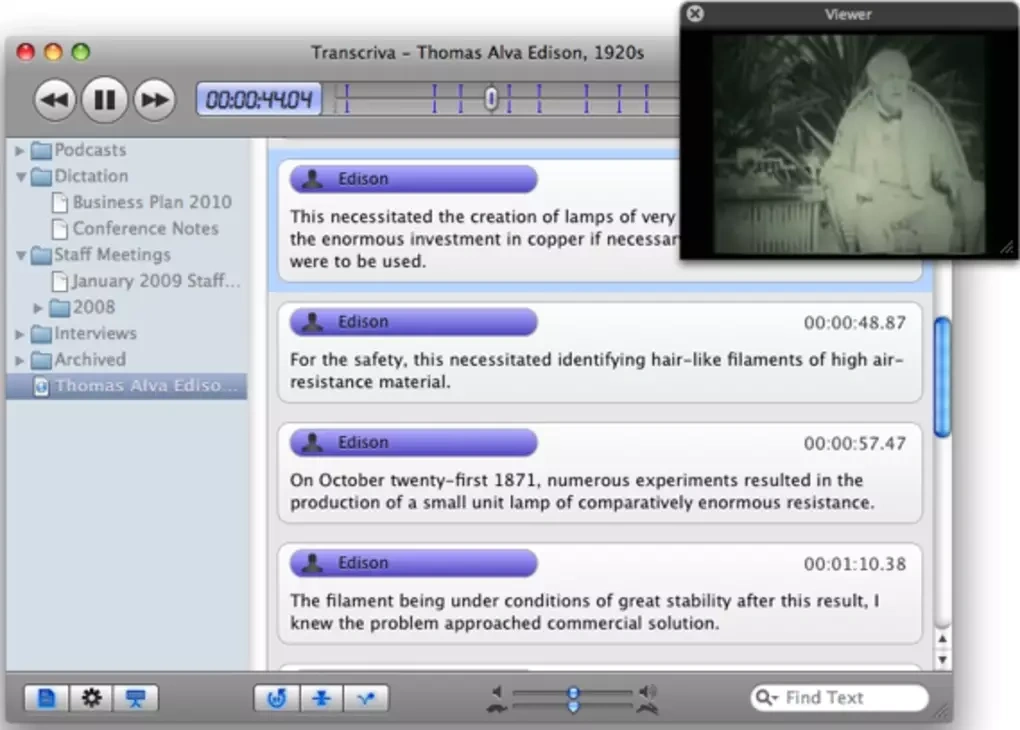 Transcriva offers you an intuitive and attractive user interface. It is popular among users who wish to transcribe interviews. It allows you to configure it for customized uses using your keyboard shortcuts. It is exclusively built for Mac to offer manual transcription needs. You can integrate it with your Mac's Quick Time to make your transcription process easier and quicker. This tool comes with great features for your use including:

-- A wide range of speech recognition tools
-- Transcribe your content from where it is. You don't need to move your content into the software. It can transcribe them on the web or from Mac.
-- Allows setting of varying playback speed
6) Sonix
Sonix is popular among most transcribers and researchers. It is a choice tool when you want to transcribe and translate your scripts automatically. It is a fast and accurate tool that completes your tasks in seconds. Compared to most tools in the same category, Sonix offers greater accuracy and can transcribe multiple tasks.

Its translation engine can translate your content into more than 40 languages. You can use the tool to share your tasks or publish them online. If you want to make an audiobook, this tool can easily integrate with a wide range of tools to allow you to achieve your goals. It comes with many useful features such as:
-- Integration capabilities with conferencing and video editing tools
-- Enhanced security and privacy for your data
-- Collaboration features to allow quick sharing and feedback
-- Sharing and publishing tools for your content
7) Riverside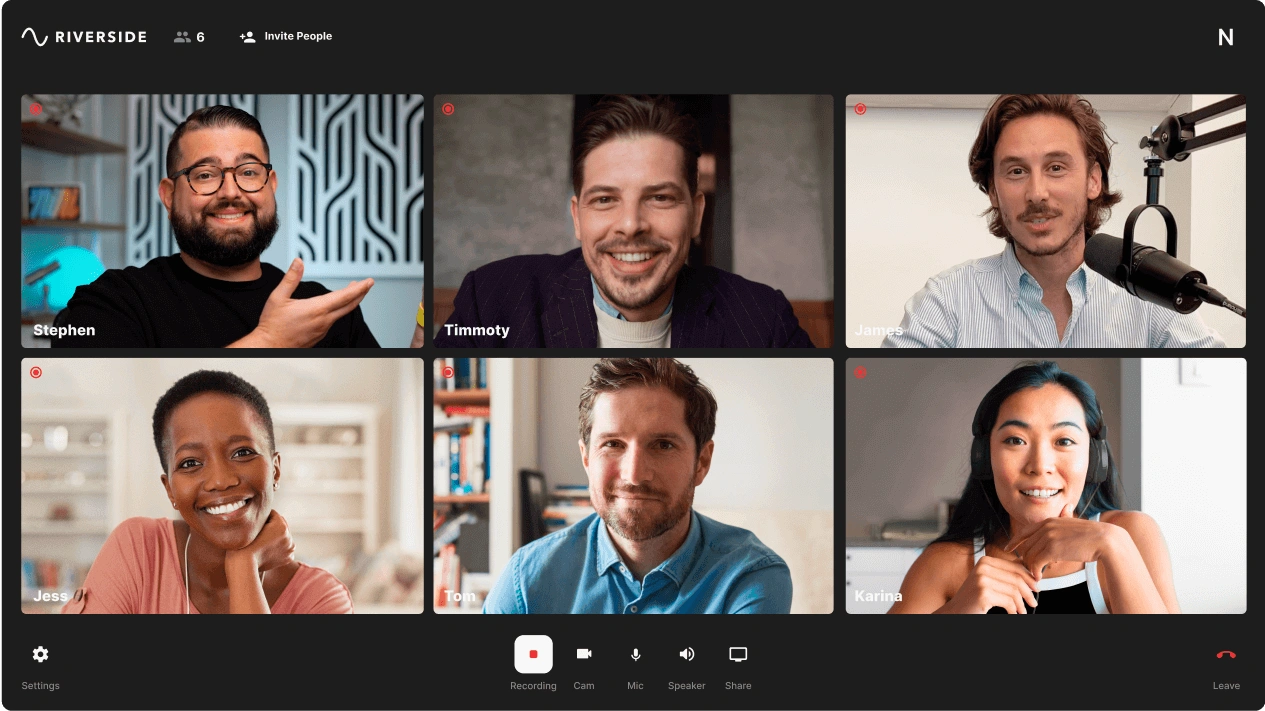 Riverside is an AI-powered transcription tool that can transcribe your files in more than 100 languages. It is popular due to its high accuracy level and friendly interface. This tool can transcribe your files word for word and capture the idioms, syllables, and nuances accurately. It has a remote recording feature that allows you to conduct interviews remotely. You can customize its settings to begin transcribing the moment you complete the recording. Above that, it can accurately distinguish up to seven unique voices of speakers. It comes with a variety of features as follows.

-- AI enables audio and video transcriptions with about 99% accuracy.
-- Convert your tasks into more than 100 languages.
8) Inqscribe
Inqscribe is preferred by users who want a simple application for transcribing their files and subtitles. It is widely used in the research, transcription, and film industries. Its playback feature allows you to set the speed to increase accuracy. It allows you to play videos and edit in the same window. This tool contains excellent guides in videos, blogs, and webinars to help you get the best user experience.
The tool is both cloud-based and web-based. You can use it for manual or automated transcription based on your needs. It has a fast processing speed helping you do more tasks in a short time. The tool allows you to transcribe subtitles in multiple languages and to export them in different formats. It offers you various features.
-- Upload audio and videos
-- Speech recognition and event scheduling
-- Transcribe your files and take time-coded texts
-- Export files in different formats
9) Notta
Notta is popular due to its ability to record and transcribe audio and videos live. You don't need to download your files because its web version tool can convert them into editable text no matter the browser you are using. You can even connect it to a streaming channel or radio and it will perform live transcription in real-time. To do this, you need to add the tool's Chrome extension. It can function as a collaborative tool to help you connect with your remote teams, organize your files and get feedback. You can also allow other users to edit both audio and video files. Notto offers you many great features such as:
-- Use your browser to record videos and audio
-- Capture dictation and convert the voice into text in real-time
-- Connect with up to 5 webinars simultaneously and convert the conversations in no time
-- Import files, share them, and export them in multiple formats and languages
10) DeepScribe
DeepScribe is widely used in the medical field to help convert speech into text and make health worker's work easier. It records natural conversations between health experts and patients and transcribes them as the conversations continue. It is trained to use the medical language and convert it into easy-to-understand medical text. The doctor or nurse can then print the text to offer better support to the patient. This tool offers a wide range of features as follows.
-- AI and machine learning capabilities
-- Offers automated transcription
-- Transcribes chats
-- Excellent data security and privacy

It is also important to note that hiring transcribers who have know-how about these tools can further enhance the accuracy and efficiency of the transcription process.
Best Transcription Software for Mac
Here's a list of the best options for transcription software when using a Mac:
Podcastle AI
Express Scribe
Descript
Maestra
Transcriva
Sonix
Riverside
Inqscribe
Notta
DeepScribe