Podcasting is the new trend in communications and we're all here for it. This medium transforms the way influencers reach their audiences, companies reach their customers and many more.
With the number of creators growing at an intense rate, the industry of podcasting is being shaped from the inside, too.
Whether you are new to podcasting or an experienced player, this blog has some of the freshest podcast insights and statistics for you. We're here to help you better navigate in the podcasting industry, so let's get down to the numbers!
How many podcasts are there?
The number of podcasts currently exceeds 2 million. As of April 2021 there are more than 48 mln episodes of podcast shows.
To give you a sense of how fast those numbers are growing, there were around 550,000 podcasting shows on Apple Podcasts in June of 2018.
How many people listen to those podcasts?
The US is one of the most active markets of podcast consumers. As of March of 2021, around 28% of people in America (80 million) listen to podcasts every week. However, this number has a lot of room for growth; the estimated number of people who are aware of podcasts but do not listen to them is 222 million.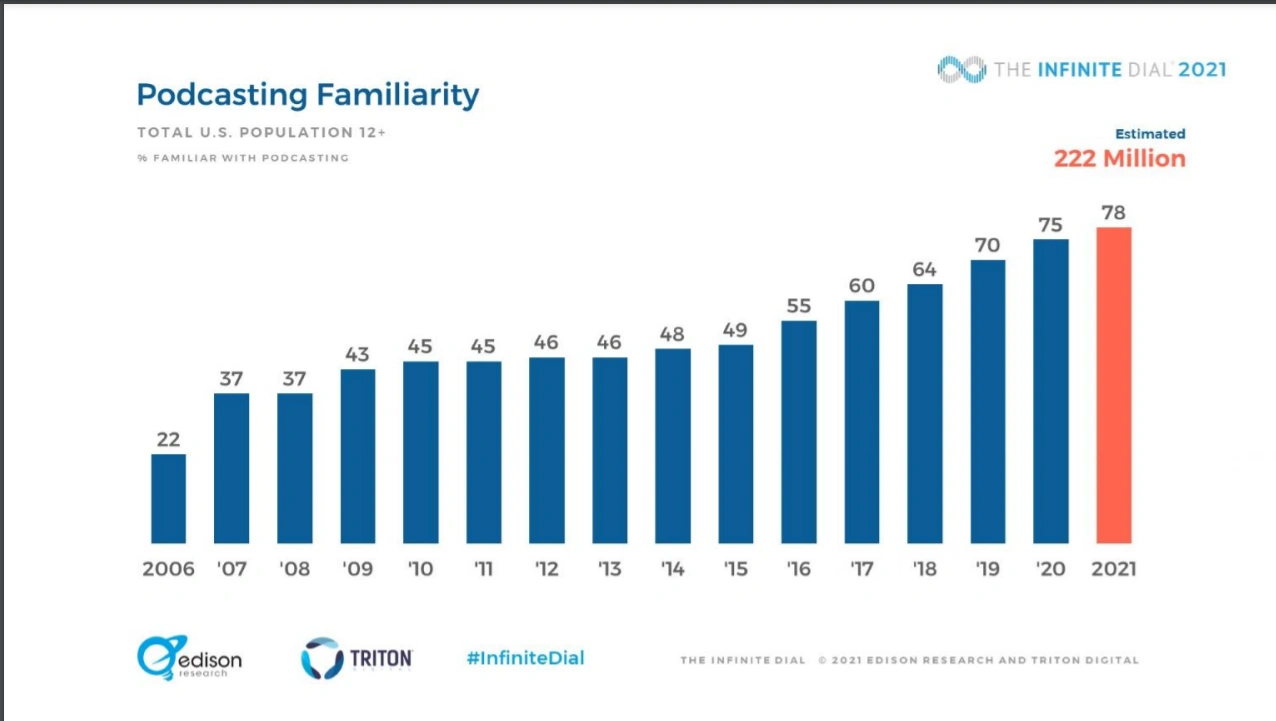 Podcast demographics to help you target better
There are some demographic insights you can use when preparing targeting strategies for your podcasts. Among the above mentioned 28% of the US population, there are:
57% White
16% Latino
13% African American
4% Asian
10% of other backgrounds
Among the mentioned groups of audio listeners, the dominating part is between the ages of 12 to 54. See it in more detail below.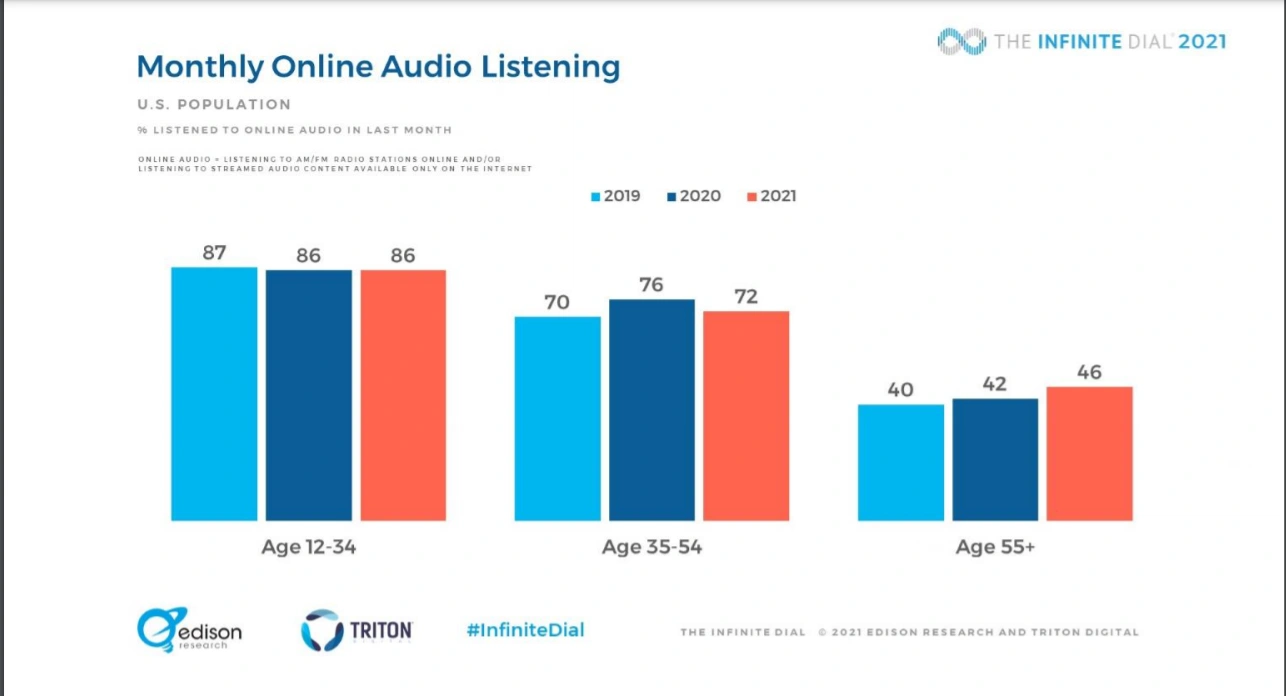 The percentage of male and female podcast listeners is almost equal. In 2021, 43% of men and 39% of women listened to podcasts monthly. Meanwhile, recorded data shows that the number of female listeners reached an all-time high just recently.
Where can you reach out to podcast listeners?
We have separate guides on when and where to submit your podcasts. In addition, the stats below will help you figure out which podcast platforms are the best choice for you.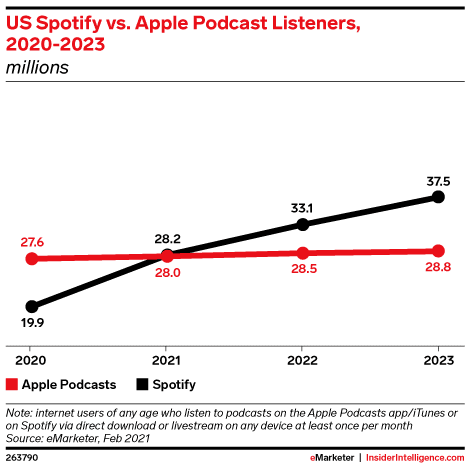 At the moment, Spotify and Apple Podcasts have an almost equal share of podcast listeners, with Spotify being slightly higher. However, according to the projections, it's better to focus your attention on Spotify, as it is forecasted to reach 37,5 million listeners by 2023. Apple Podcasts, on the contrary, are not projected to reach 30 million.
This picture might seem strange at first sight, as Apple Podcasts has been considered the platform for podcasts for a long time. Industry analysts explain the phenomena of Spotify's popularization by the fact that it combines the options of listening to both music and podcasts, while Apple Podcasts is more niche in this regard.
Which device will your podcasts be played on?
More than 60% of podcast listeners use smartphones to play the episodes. Some 25% choose computers or laptops.
These podcast statistics do not have a significant influence on how you should record the episodes, but they impact another important part: podcast graphics.
When preparing the covers for your podcasts, keep in mind that the majority of your listeners will see it on mobile; so adjust the style and the technical parameters accordingly.
The smallest size for a podcast's cover art is 1400×1400 pixels. However, the optimal and the most accepted is 3000×3000 pixels.
Read more on how you should prepare podcast graphics for your shows here.
What do podcast listeners expect from you?
You decide what you want to share. However, you should also consider what is the best way for your listeners to grasp your message. Let's take a look at podcast statistics that might help with the latter.
According to Statista's recent research, the main motivation that drives listeners to consume podcasts is the desire to learn something new. Therefore, try to modify your podcast message into something informative or inspirational.
Interviews with industry experts can greatly serve that purpose. Luckily, recording interviews is no longer a struggle. Podcastle's recent feature allows you to record high-quality remote interviews without any special equipment.
When it comes to selecting a genre for your podcasts, Statista's facts show that in the US, around 22% of podcast listeners prefer comedy, followed by news, real crimes, health, and sports.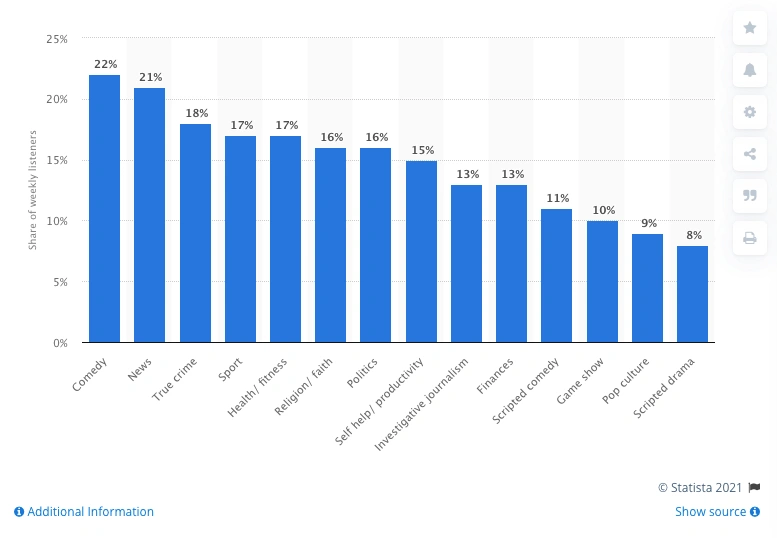 Did the pandemic impact the podcast statistics?
As any sphere, especially digital, podcasting was also significantly affected by the global pandemic. While you'd expect the lockdown to increase the listening rates, that was not the case in the beginning.
With the spread of the pandemic, there was a rapid decline in not just podcast consumption, but also other forms of audio content. One of the logical explanations for that could be the fact that people were locked inside their houses, commuting less and as a result, spending less time listening to podcasts.
However, the situation recovered by fall 2020. It was more than just a recovery; the weekly podcast listening rates increased by half an hour at that period.
Where can I find up-to-date podcast statistics?
If you are reading this article long after its publishing and want to refresh the numbers included in it, head to the sources below, which we used when writing this blog.
The majority of the facts given in this article were based on The Infinite Dial Research by Edison Research. That's one of the popular and longest-running annual studies on consumer media habits. You can access the study of every consecutive year by this link.
In addition, you can check out our blog, for podcasting tips and updated content on the latest innovations in the field.