When searching for audio recording and editing software, it's important to recognize that there isn't a one-size-fits-all solution. Your choice should align with your specific needs. Whether you're a seasoned podcaster or just embarking on your podcasting journey, these free audio recording and editing software options can help you create engaging content that resonates with your audience.
Best Free Web-Based Software (No Download Required)
Record and edit your audio without the hassle of downloads. Here are the best free browser-based tools for capturing and enhancing your sound, all just a click away, with no installation required.
1) Podcastle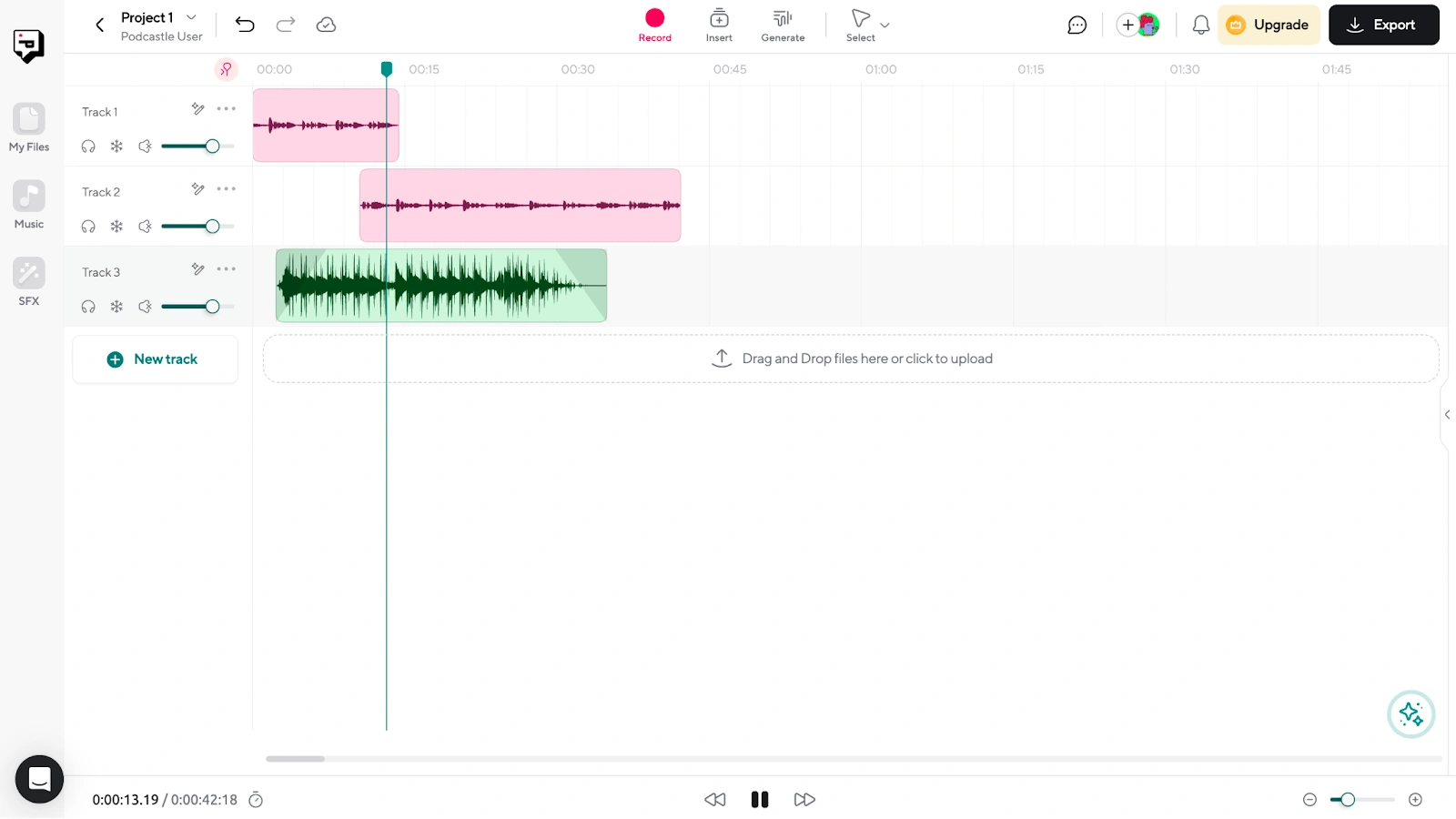 Podcastle is the free podcast creation platform that has it all! From HD sound recording to AI-powered editing tools, this software is your best friend no matter what you need to do with your audio. Trim, compress, and sweeten your voice, or remove unnecessary noise and pauses—you can do it all in just a few clicks. Podcastle also provides a library of royalty-free tunes and sound effects that can bring your content to the next level. And in case solo isn't your thing, you can use both the web platform and the iOS app to record remote multitrack interviews and get a separate recording for each of your guests.
Key Features
All-in-One Platform: Allows content creators to do all the necessary tasks –record, edit, and export audio and video files–in one online platform.

High-Quality Recording: Records high-quality remote interviews from anywhere and then automatically saves the recording to the cloud.

AI-Powered Tools: Leverages artificial intelligence technology to enhance the quality of podcasts.

User-Friendly Editing Tools: Easily edit your podcast using a set of powerful tools with a single click–including splitting, trimming, fading, compressing, equalizing, leveling, and enhancing using the power of AI technology.
Unique Features
Remote Interviews: One of the standout features of Podcastle is its ability to facilitate remote interviews with up to 10 participants.

AI-Generated Voices: Create an entire podcast in seconds by using vibrant AI voices to tell your story; or (with a paid account) clone your own voice and simply type in the script. This feature sets Podcastle in a category by itself when it comes to audio software.We Recommend Podcastle For…
Recommended For
Everyone! We think Podcastle is the best all-around audio software solution available for free.
2) Hya-Wave
Hya-Wave is a browser-based online audio editor designed for user convenience and ease of learning. While it doesn't offer multi-tracking, it provides essential functions like copy, paste, clear, cut, and cropping for your audio files. Additionally, you can easily load and save your projects in the cloud, apply live effects in real-time, and effortlessly drag and drop files onto tracks. Hya-Wave also offers the option to record new audio with a simple click of the record button. This tool is the perfect solution for individuals who need to record or edit audio while on the go and prefer to avoid the hassle of installing large software on their laptops.
Key Features
Web-Based: Hya-Wave operates directly in your internet browser, which means there's no need to download or install any software.
Real-Time FX: Hya-Wave offers real-time effects, allowing you to apply audio effects and hear the results instantly.
Cloud Storage: You can load and save your projects in the cloud, providing easy access to your work from any device.
Undo and Redo Capabilities: Hya-Wave supports unlimited undo and redo actions, which allows for non-destructive editing.
Sleek Interface: The user interface of Hya-Wave is clean and user-friendly, making it easy for both beginners and experienced users to navigate.
Unique Features
Audio Wave Exploration: This feature allows you to visually explore your audio wave, providing a more intuitive way to edit your audio.
IndexedDB for Undo/Redo: Hya-Wave uses IndexedDB for its undo and redo operations, which is a unique approach not commonly found in other free audio editors.
Recommended For
Content creators who frequently switch devices and need something lightweight and accessible for basic audio projects.
3) TwistedWave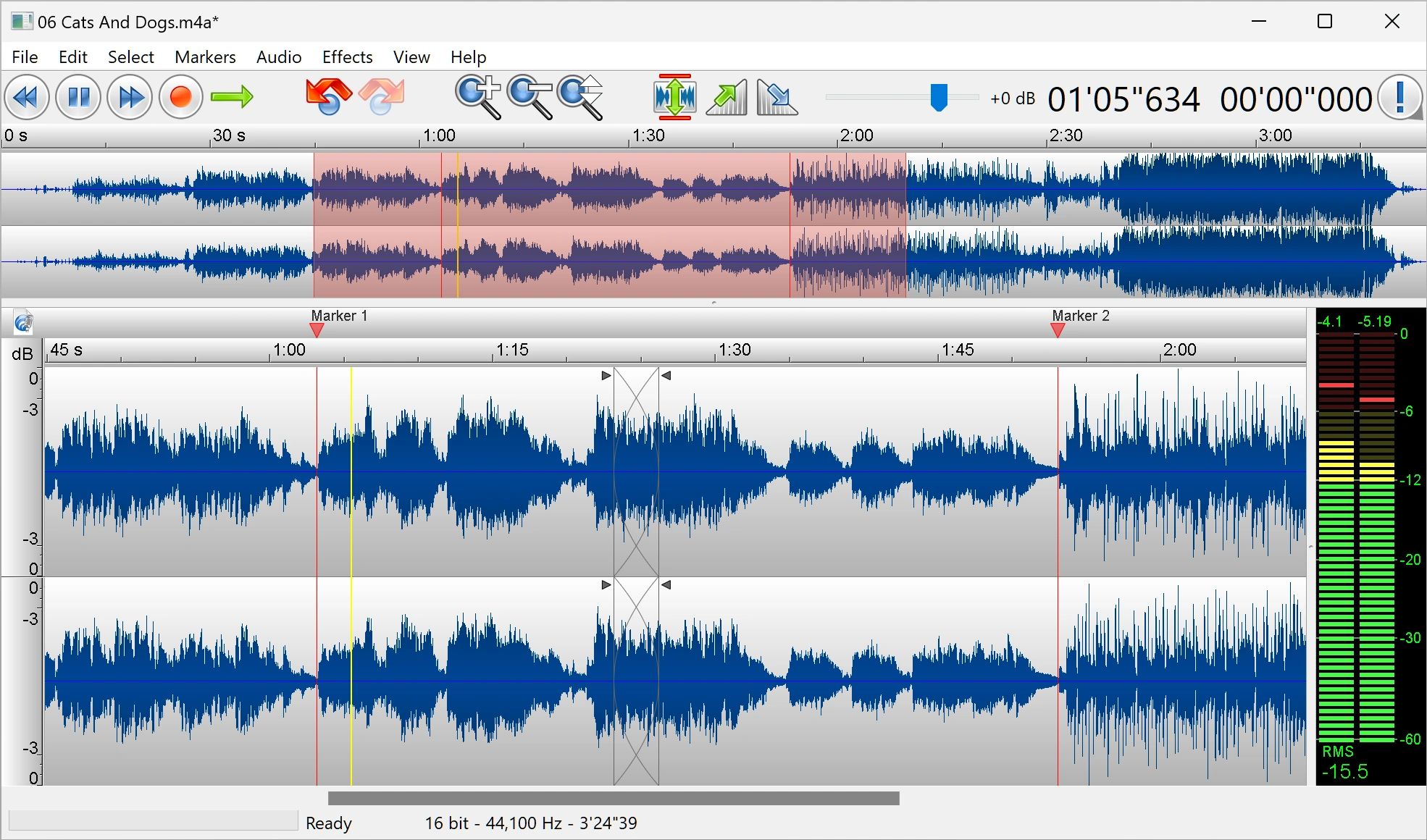 TwistedWave is another exceptional web-based application for editing audio files. It's not only free but also incredibly user-friendly. Although it doesn't support multitrack editing, it compensates with its user-friendly interface and robust features. Normalizing your audio is a breeze, and applying effects is equally straightforward. A noteworthy feature is that when you remove a section of your audio, the remaining parts seamlessly shift to eliminate any gaps. To eliminate noise, you can mute or silence the noisy segments. In conclusion, there's a plethora of audio recording and editing software options available. Your choice should align with your workflow and your ability to learn it efficiently, as achieving the desired quality is paramount.
Key Features
Cross-Platform Compatibility: TwistedWave is available on multiple platforms including macOS, iPhone, iPad, online, and even a beta version for Windows.
Simplified Interface: It has a user-friendly interface that's easy to understand, making it accessible for both beginners and professionals.
Built-In Audio Recording: TwistedWave includes a built-in audio recording option, allowing users to record and edit audio clips directly within the app.
Audio Preview: This feature allows users to preview their audio files within the app, which can be particularly useful during the editing process.
Support for Various Audio Formats: TwistedWave supports a wide range of audio formats, providing flexibility for users working with different types of audio files.
Unique Features
Ability to Handle Large Files: What makes TwistedWave unique is its ability to deal with very large files. Users don't have to wait until TwistedWave has finished loading a file or applying an effect before they can start playing the result or applying another effect.
Loop Audio Playback: This feature allows users to loop their audio playback, which can be useful for repetitive listening or editing tasks.
Recommended For
TwistedWave is particularly well-suited for individuals who need to work with large audio files and require a high level of detail in their recordings.

The Best Free Audio Recording Software for Mac
Calling all Mac enthusiasts! If you're on a quest to find the perfect audio recording software for your Apple device, look no further.
1) GarageBand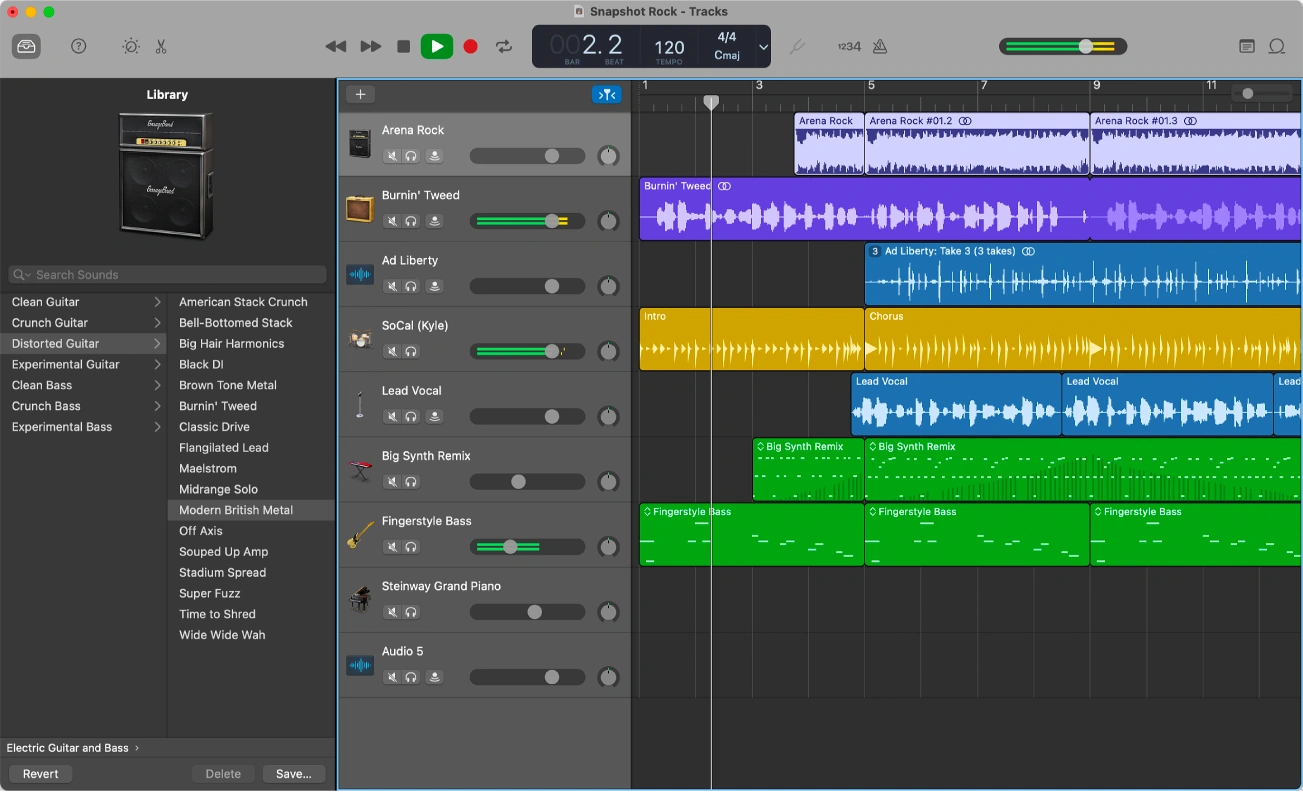 GarageBand, a free audio recording and editing program that comes preloaded on most Apple products, is incredibly user-friendly, catering to both music producers and podcasters. You can effortlessly import your audio onto separate tracks, apply effects like a compressor, record voiceovers, and create multitrack compositions. It even includes a "bars and beats" feature for music enthusiasts. The software boasts a nice metronome feature, plenty of different preset sounds and libraries that you can use, and an intuitive Apple-style help throughout the app.
Key Features
User-Friendly Interface: GarageBand is known for its intuitive and user-friendly interface, making it accessible for beginners in music production.
Musician-Focused Resources: Dedicated functions for sampling and transposing music, as well as a deep library of royalty-free loops
Easy Project Sharing: In addition to directly exporting files to your streaming platform of choice, GarageBand also makes it easy to AirDrop songs to other Apple devices
Unique Features
Music Lessons: GarageBand offers interactive music lessons for learning to play piano and guitar. While some other software may provide tutorials or documentation, GarageBand's integrated music lessons provide a hands-on, interactive approach for beginners.
Integration with Apple Ecosystem: GarageBand seamlessly integrates with other Apple software and hardware, including Logic Pro X and various macOS and iOS devices. This level of integration is specific to Apple's ecosystem, offering a unique advantage for users who are already part of that ecosystem.
We Recommend GarageBand For…
Musicians and musical enthusiasts.
2) Audacity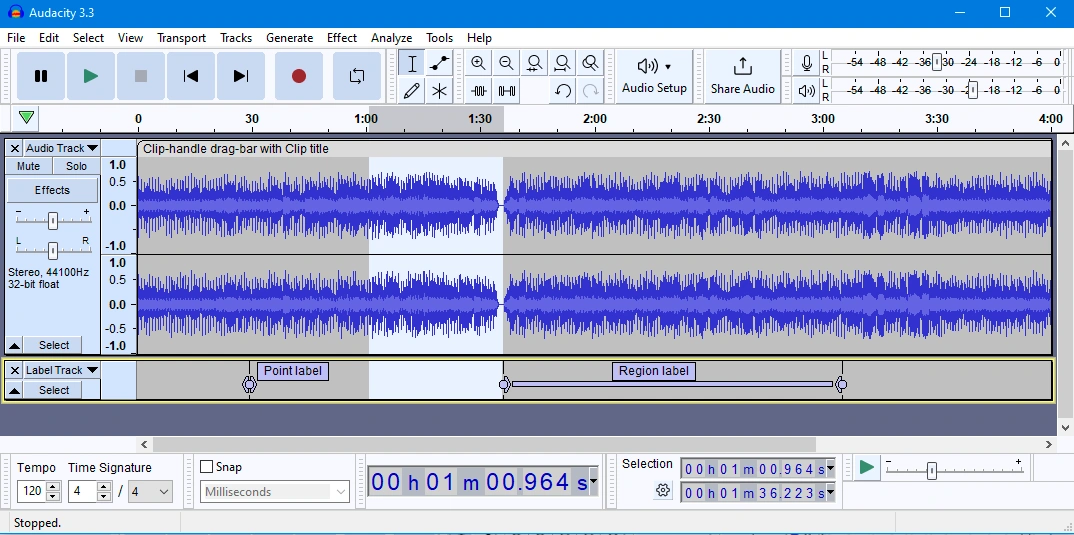 Audacity is a free and incredibly user-friendly piece of software, backed by a thriving open-source community. It provides versatile audio playback and editing capabilities, allowing you to adjust volumes, make various audio edits, delete unwanted portions, and effectively manipulate waveforms, podcasts, and other audio content. The software supports the creation of multi-file mixes in a user-friendly multitrack format, offering the flexibility to choose your preferred audio input and output directly from the interface. Audacity natively handles a range of file formats, including Wav, AIFF, FLAC, mp2, mp3, and Ogg Vorbis, but you can further expand its compatibility with additional libraries and file types. Audacity stands out as one of the most user-intuitive free audio editing software options available.
Audacity Key Features
Multi-Track Editing: Audacity allows users to work with multiple audio tracks simultaneously. This feature is essential for tasks like podcast editing, music production, and sound design.
Wide Format Support: Audacity supports a wide range of audio formats, including WAV, MP3, AIFF, FLAC, and more. This flexibility makes it easy to work with different file types.
Audio Effects: The software offers a variety of built-in audio effects, such as noise reduction, equalization, reverb, and compression, allowing users to enhance and manipulate their audio recordings.
Open-Source and Cross-Platform: Audacity is open-source software, which means it's continually developed and updated by a community of users. It's also available for Windows, macOS, and Linux, making it accessible to a broad range of users.
Advanced Editing Tools: Audacity provides advanced editing tools like time-stretching, pitch-shifting, and spectral editing. These tools are valuable for audio professionals and enthusiasts who require precise control over their projects.
Audacity Unique Features
Label Tracks: Audacity allows users to create label tracks where they can add text labels, markers, and annotations at specific points in the audio timeline. This feature is particularly useful for podcasters and audio editors who need to mark important moments in their recordings.
Batch Processing: Audacity supports batch processing, enabling users to apply the same effect or process to multiple audio files simultaneously. This is a time-saving feature for tasks like format conversion or applying uniform changes to a set of recordings.
Recommended For
Beginner podcasters.
3) LMMS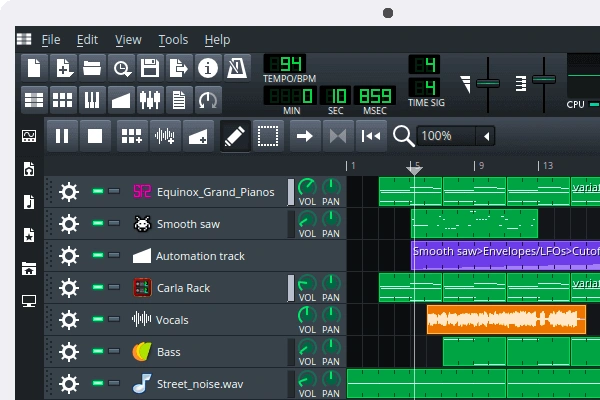 LMMS, short for Linux MultiMedia Studio, is a versatile and completely open-source audio recording and editing software available for Windows, Mac, and Linux users. It's the perfect choice for those looking to explore the world of music creation. LMMS empowers you to dive into music production with just a few clicks. You can effortlessly craft your own beats and bass lines, with access to various plugins and effects that provide endless creative possibilities. In essence, it serves as a lightweight alternative to more advanced digital audio workstations like Logic Pro, Ableton, or Fruity Loops, offering an accessible entry point for aspiring music producers.
LMMS Key Features
Cross-Platform Compatibility: LMMS works on multiple operating systems, including Windows, Mac, and Linux.
Automation Editor: This feature allows for more complex sound manipulations.
FX Mixer: It helps in mixing multiple audio channels.
LMMS Unique Features
Built-in "Beats Editor" Feature: Apart from the standard features, you can also get creative with the built-in "Beats Editor" feature. The Beats Editor lets you browse through the entire audio track and select appropriate samples for making your own customized beats.
Use of Keyboard as a MIDI Controller: You can choose to have a MIDI controller if you're more comfortable using an external controller, but it's not required. Another option is to actually use your computer keyboard as your MIDI controller.
We Recommend LMMS For…
Electronic music producers and composers.
4) VideoProc Vlogger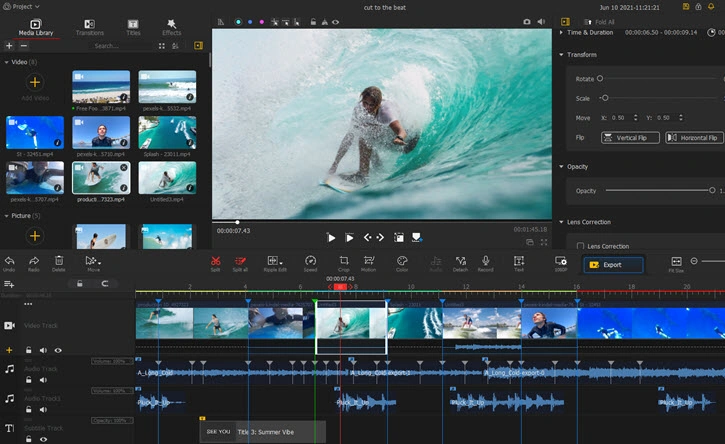 VideoProc Vlogger, a comprehensive audio editing and recording software, has gained widespread popularity among podcasters, content creators, and beginners. It's completely free, with no limitations. Offering an unlimited number of tracks and a range of convenient editing tools, it simplifies the process of mixing audio, cutting, splitting clips, adjusting volumes, and applying fade effects. The software includes an intelligent audio analyzer, a 10-band graphic equalizer, and a selection of sound effects in a dedicated audio editor panel, streamlining your workflow. Notably, it features a silence detection function to automatically identify unintended pauses for removal, and one-click voice changer effects, audio FX, and EQ presets for time-saving convenience. VideoProc Vlogger also doubles as free video editing software, allowing you to create music videos, slideshows, vlogs, home videos, or any content you're passionate about.
VideoProc Vlogger Key Features
Studio-Grade Audio Editing: VideoProc Vlogger provides a visualized audiogram for precise audio editing and toning1. It allows you to edit a video to the beat intelligently.
10-Band Audio Equalizer: This feature allows you to boost or attenuate any frequency bands at will.
Sound Effects: You can apply different sound effects with one click.
Audio Beat Effects: This feature helps create engaging videos by syncing the video edits with the beat of the audio.
Audio Extractor: VideoProc Vlogger allows you to extract audio from your videos, providing flexibility in post-production.
VideoProc Vlogger Unique Features
Change Voice: This feature allows you to alter the tone and tempo of your audio, which can be particularly useful for creating unique sound effects or character voices.
Denoise: VideoProc Vlogger has a denoise feature that can help improve the audio quality by reducing background noise.
Recommended For
Video content creators.
The Best Free Audio Recording Software for Windows and PC
Windows and PC users, this one's for you! Uncover the top free audio recording software options that are optimized for your operating system.
1) Wavosaur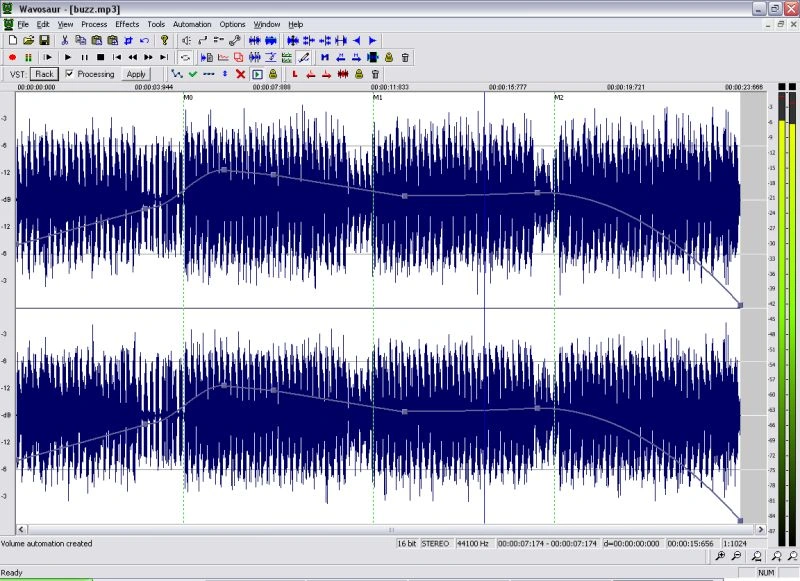 This free software offers a versatile range of capabilities, including audio editing, processing, and recording, with the option to both record and export your audio in WAV or mp3 formats. Wavosaur comes equipped with all the essential features for efficient audio editing, enabling you to create music loops by arranging and merging sound segments. It also provides quick audio analysis and the ability to batch-convert audio files. Notably, Wavosaur supports VST plugins, Asio drivers, multichannel WAV files, and real-time effect processing, making it a solid choice for mastering and sound design tasks. Moreover, this program is installer-free and doesn't make any registry entries, allowing you to carry it easily on a USB drive for on-the-go editing.
Wavosaur Key Features
Multiple Document Interface: You can open and work on many audio files at the same time.
Advanced Editing Functions: You can do all the usual stuff like cut, copy, paste, mix and replace audio. You can also create a new file from a piece of an existing one.
VST Processing: You can add special effects to your audio using VST plugins. You can even save your favorite combinations of effects to use again later.
Audio Capabilities: It works with professional audio systems (ASIO), can handle multiple audio channels, and supports high-quality audio up to 192 KHz, 24 bits.
Analysis Features: It gives you detailed information about your audio file like volume levels and frequency content. It can even show you a visual representation of the frequencies in your audio.
Wavosaur Unique Features
Size and Efficiency: Despite being a full-featured audio editing program, Wavosaur is tiny and ultra-efficient. This makes it an impressive programming feat with full support for VSTfx and ASIO.
Configuration Files: Wavosaur creates configuration files to store settings and user preferences. This allows for a high degree of customization and control over the software's behavior.
Recommended For
Experienced, multitasking audio producers.
2) AudioDope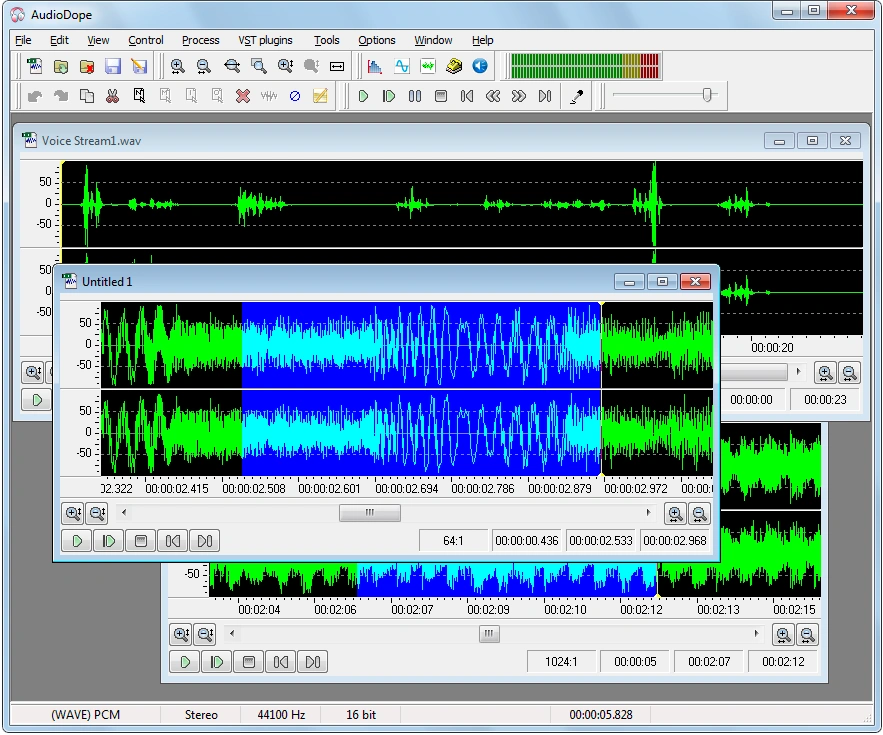 AudioDope audio recording and editing software offers an impressive range of file compatibility. It handles standard formats like WAV, mp3, and FLAC, but it doesn't stop there—it accommodates less common file types as well. You have the power to edit any portion of your audio file using functions such as cut, copy, paste, insert, or delete. Tailor your audio by applying various effects and synthesized sound files. The software includes native effects processes and supports VST plugins for added versatility. What's more, AudioDope boasts compelling features like a frequency analyzer, tone generator, noise generator, and text-to-speech capabilities, making it a comprehensive audio solution.
Key Features
Sound Editing Functions: AudioDope offers a range of sound editing functions such as copy, cut, paste, delete, insert, and trim.
Audio Effects: You can apply various audio effects like echo, fading, inversion, noise reduction, normalization, pitch scale, pitch shift, reverbation, reversing, sound 3D, tempo, true bass, and volume.
Filters: It provides filters like moving average, high-pass, low-pass, band-pass.
Support for Various Audio Formats: AudioDope supports a wide range of audio formats for both opening and converting.
Third-Party VST Plug-ins: AudioDope supports third-party Virtual Studio Technology (VST) plugins.
Unique Features
Text-to-Speech Converter: AudioDope includes a text-to-speech feature, allowing users to convert text into speech and save it as an audio file. This tool can be practical for creating voiceovers, narration, or text-based content.
Audio Mixer: While basic, AudioDope has a simple audio mixer that enables users to adjust the volume and balance of multiple audio tracks, providing some versatility for mixing tasks.
Recommended For
Content creators with simple audio editing needs.
3) WavePad Audio Editor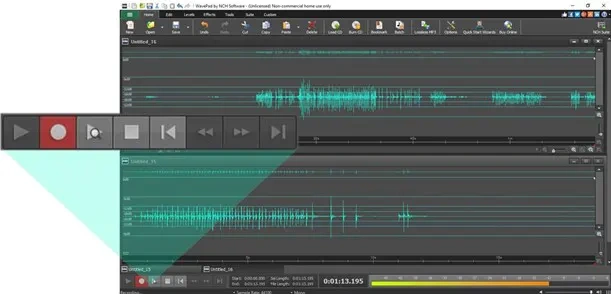 WavePad Audio Editor is your versatile tool for capturing, refining, and personalizing music, vocals, or any audio content. Its editing toolkit empowers you to perform tasks such as precise cutting, copying, pasting, and enhancing your audio with effects like echo, amplification, and noise reduction. This user-friendly software functions as both a WAV and MP3 editor, accommodating a wide spectrum of file formats like vox, gsm, real audio, au, AIFF, FLAC, Ogg, and many others. With Wavepad, you have the freedom to shape your audio exactly the way you want it.
Key Features
Multi-Track Editing: WavePad allows users to work with multiple audio tracks simultaneously, making it suitable for tasks like mixing, podcast editing, and music production.
Wide Format Support: It supports a wide range of audio formats, including WAV, MP3, WMA, FLAC, and more, ensuring compatibility with various audio sources.
Real-Time Effects Preview: Users can preview audio effects in real-time before applying them to the track, allowing for precise adjustments and better control over the editing process.
Audio Restoration Tools: WavePad offers a set of tools for audio restoration and enhancement, including noise reduction, pop/click removal, and equalization, which are valuable for improving the quality of audio recordings.
Direct Online Sharing: It enables users to easily share their edited audio files directly to platforms like SoundCloud, Dropbox, or Google Drive, streamlining the sharing process.
Unique Features
DirectX and Virtual Studio Technology DLL (VST) Plugin Support: This feature gives producers access to thousands of additional tools and effects.
Audio Restoration Features: Wavepad includes audio restoration features like noise reduction and click pop removal.
Recommended For
Wavepad Audio Editor is particularly well-suited for audio restoration and enhancement in various scenarios. Given its advanced audio restoration features like noise reduction and click pop removal, it is an excellent choice for those working with archival audio, such as digitizing old vinyl records or enhancing the sound quality of historical speeches or interviews.
4) Ocenaudio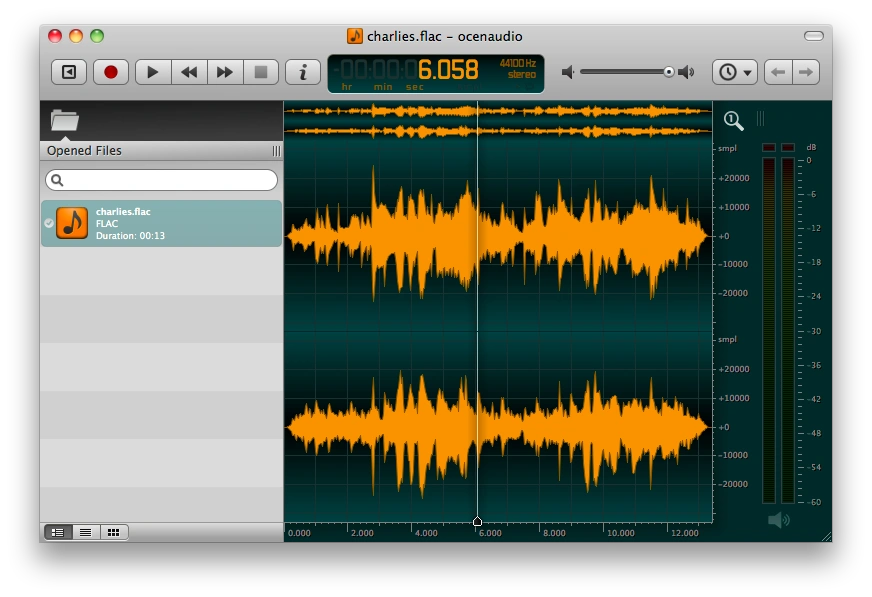 Ocenaudio stands out as a speedy and highly capable audio recording and editing software. In addition to conventional audio tasks, it offers a range of built-in effects and support for VST effects, expanding your creative possibilities. The real-time preview for both native and VST effects enables you to listen to the changes as you adjust effect controls, facilitating the achievement of your desired sound. Remarkably, Ocenaudio employs advanced memory management, ensuring that extensive file editing won't consume excessive memory, maintaining swift editing performance. Notably, its spectrogram feature provides a clear and detailed analysis of your audio's spectral content.
Key Features
VST Plugins Support: Ocenaudio supports VST (Virtual Studio Technology) plugins, giving users access to numerous effects1.
Real-Time Preview of Effects: This feature allows users to hear the processed signal while adjusting the controls, making it easier to achieve the desired result.
Cross-Platform Support: Ocenaudio is available for all major operating systems: Microsoft Windows, Mac OS X, and Linux.
Multi-Selection for Delicate Editions: This tool allows users to simultaneously select different portions of an audio file and listen, edit, or even apply an effect to them.
Efficient Editing of Large Files: Using an advanced memory management system, Ocenaudio can handle files of any length or quantity without wasting any of your computer's memory.
Unique Features
Spectrogram View: Ocenaudio's spectrogram view is a powerful tool for audio analysis and editing. While spectrogram features exist in some other software, Ocenaudio's implementation is user-friendly and highly effective. It provides a visual representation of audio frequencies, aiding in precise editing, such as identifying and removing specific elements or artifacts in the audio, which can be particularly valuable for tasks like audio restoration or sound design.
Recommended For
Visually-oriented audio editors.
5) Ardour 8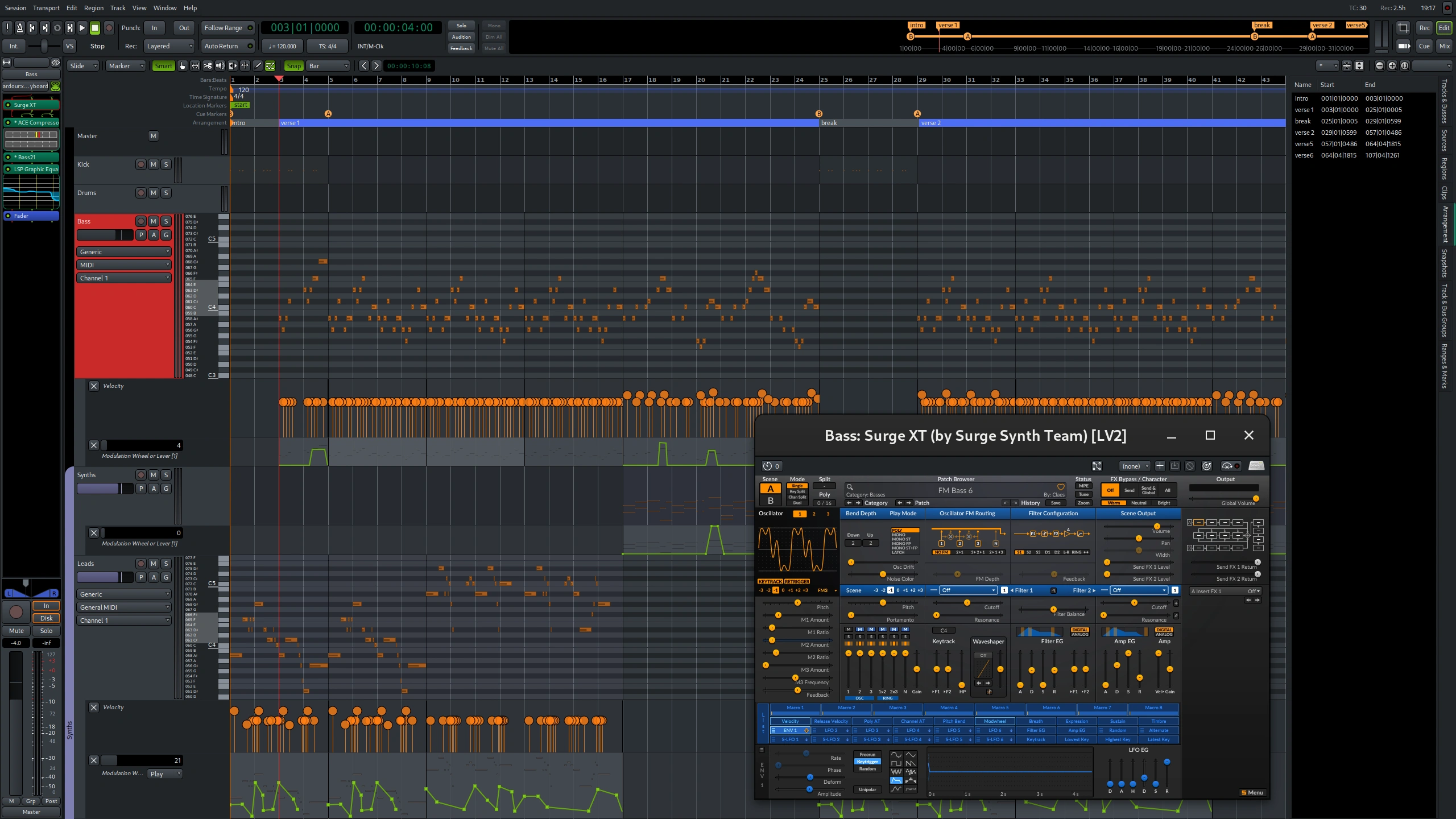 Ardour 8 is open source, allowing you to access and compile the source code according to your preferences. It's equipped with a plethora of effects for you to experiment with, providing all the essential tools for a complete production. Ardour 8 seamlessly integrates with various audio engines, including JACK, ASIO, ALSA, or Core Audio. Notably, it features impressive ripple edits and boasts top-tier MIDI editing capabilities, making it a versatile choice for audio production and editing.
Key Features
Plugin Manager: Helps you keep track of all the extra features you can add to your music. It can handle different kinds of plugins that can be used to change or improve your music.
Innovative Playlist Management: Makes it easier to organize your music recordings. You can record multiple versions of the same music part, and it helps you remember where you made changes in your music.
Full Latency Compensation: Ardour 8 offers full latency compensation that works everywhere, no matter the routed signals.
Global Varispeed: Easily change the speed of an entire project with a high-quality resampling engine.
Unique Features
Ardour Control Surface Support: Connect with different types of physical controllers, like knobs and sliders, to help users control their music projects more easily. This makes it faster and more hands-on, like adjusting music with your hands instead of just a computer mouse.
Cue Monitoring: This feature lets musicians listen to the input signal and hear themselves performing at the same time.
Recommended For
Sound engineers working in a live recording environment where they need to route audio signals flexibly.