Have you ever thought during a Clubhouse room conversation "That was such a great idea, I should have recorded it!" That's one of the biggest regrets for Clubhouse room members, who in the middle of the talk realize how many gems they have just lost. In fact, sometimes recording the conversation is actually a must. Let's say if you are a teacher who has a Clubhouse room with his students, you absolutely need the recording. Same goes for when you are conducting a seminar and have to share its content later with the participants. It all brings us to one big question: how can you record your clubhouse session? And most importantly, what should you do with it afterwards?
How to record a Clubhouse room?
Overview
Let's start from the beginning: how can you record the Clubhouse conversations without breaking their policies? Yes, there are actual policies in regards to recording sessions on the app.
Why is it a big deal to record on Clubhouse? Well, one of the unique features of Clubhouse is that it is live. Almost none of the Clubhouse rooms are recorded and shared. It is impossible to play it back or pause it either, so you really have to be in the live room not to miss anything.
Although it gives a Clubhouse an exclusivity, it certainly is not good news for those who want to revisit the conversation later and study it in more detail. That is why, many of the users still prefer to record the session in some way instead of simply remembering it. Here's when Clubhouse policy on recording comes in.
When you try to record your room, you get a big red notification telling you: " Heads up – Sharing recordings without the speakers' permission violates the Community Guidelines and will result in suspension. Thx!"
This means that Clubhouse does not allow you to record the room, unless you get permission from the participating speakers to do so. One of the ways you can solve this problem is by simply writing in the title "RECORDING," so that all the participants know that the room will be recorded.
Now that we know how to record your Clubhouse room session let's figure out the technical aspects: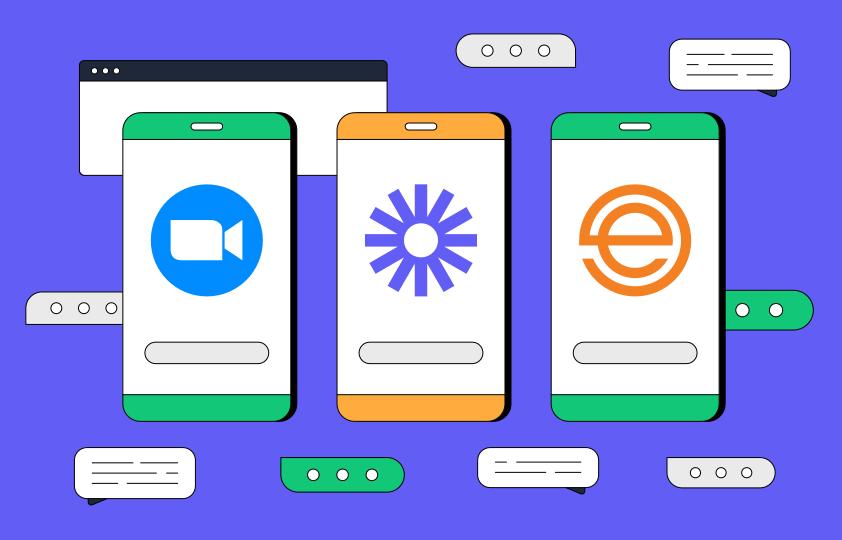 What apps to use for recording?
As for recording software, we have five suggestions:
– Zoom
Record your conversation using good old Zoom. All you need to do is simply connect your phone to your computer and then record the screen. In the end you will get a Zoom recording with your screen and your face, just like other Zoom recordings. The main drawback of this option is that you get the background noise recorded too. However, later on you can remove the background noise using Podcastle's Magic Dust tool or convert your Zoom audio transcript into a podcast.
– Ecamm
Ecamm works with the same principle. Just connect your phone to your computer and screen record it. In the end you get a video with your Clubhouse conversation in it!
– Loom
The other option in our list is to record your Clubhouse room using the Loom app. The good news here is that you no longer have to connect your phone to your computer. Loom has a mobile app that allows you to record your phone's screen directly. There are two more built-in phone features you can record with, in case you're using an iPhone.
– Screen Recording
IPhone's screen recording feature is a life-saver in case you can't or don't want to download any other apps. Add "Screen Recording" to your Control Center by going to the Control Center, "Customize Controls", and then clicking on "Screen Recording." Once it's added, join whichever Clubhouse room you want to, slide up to access the Control Center and tap on the "Screen Recording" button. You can turn your microphone off by holding down the "Screen Recording" button for a few seconds. This way your speech won't be recorded. Once you are done, you will find the recorded file in your Photos.
– Voice Memos
Similar to Zoom, this iPhone screen recorder records directly from your microphone, so don't expect ideal sound quality. It's a great option though if you're looking for something quick and convenient. Plus, in the case of audio to text transcription, crystal clear audio isn't a requirement. All you need to do is join your desired Clubhouse conversation, open the Voice Memos app, press the "Record" button at the bottom of the screen, and tap "Stop" whenever you are done. Now, find your recording in the Voice Memos app, and let's finally get to work.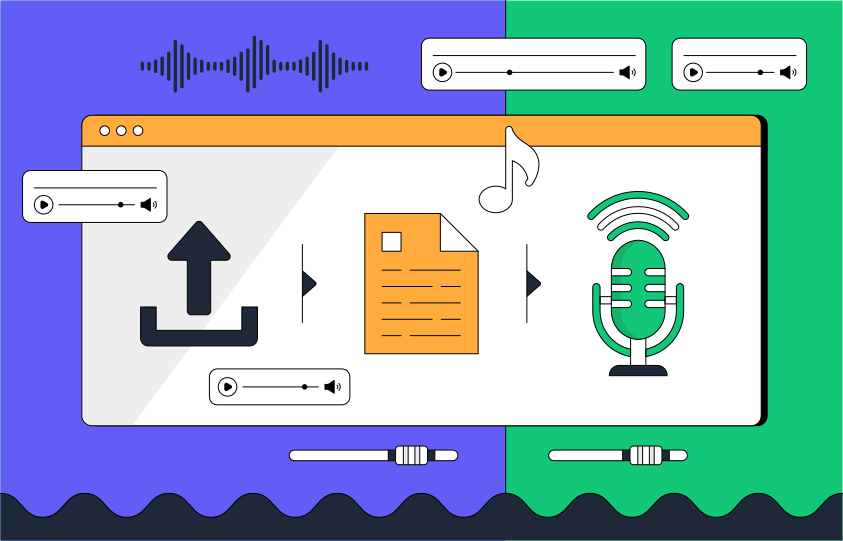 What's next: what to do with the recordings?
Finally, once you are done recording a live session it is time you convert that video into a podcast and share it with the participants of the Clubhouse room. Here's where Podcastle and its wide range of tools including free audio to text transcription come to help! With our free podcast creation platform there are just a few simple steps that you need to follow:
-Upload your video file to Podcastle: Whichever app you chose to get the video does not matter. Just upload the mp4 file to Podcastle and we will help you convert it to audio.
-Get the full transcript: Once you have the audio file, we give you the option to convert audio to text and get a full transcript. You can edit it by adding the speakers' names and voila! You have the entire text of your Clubhouse session ready in no time.
-Share it as a podcast: In the end, you can either send the file and transcript directly to your Clubhouse room session's participants or share it as a podcast on one of the platforms.
With our adaptive AI technology, getting a podcast out of your Clubhouse session is as easy as it can be. It will help your Clubhouse participants catch up, and why not, even attract new listeners to your channel. So take the most out of it!