As Jean Paul once said: "Music is the moonlight in the gloomy night of life."

Most probably, Jean Paul was not talking about the royalty-free music for podcasts, though. But don't get too upset. Although it won't light up the darkness of one's night, your podcast music will undoubtedly make your show more fun.

The thing is that it's not that easy to find the perfect tune for your show. Of course, everyone wants to have the best intro music and an unforgettable outro tune, but where do you find those? Is there a secret place to find royalty-free music for podcasts?

If you're stuck on this question, you're in the right place. We'll tell you where to find royalty-free music for podcasts that would be precisely what you were looking for. And if you're more into the paid pieces, we'll have them covered too.

So, without further adieu, let's jump straight to the topic:
How to find royalty-free music for podcasts?
Well, if you want to find the perfect royalty-free tune for your show, you need to skim through the platforms with copyright-free tracks. In other words, you're going to go through a lot of research.

Then, once you find the track that feels right, just check if the music is royalty-free. If it is, then it's all yours.

The steps are simple; the most challenging part is to land on the right platform with thousands of tracks to choose from.

But we'll make it easier by listing some of the best ones here. Let's start with the free options: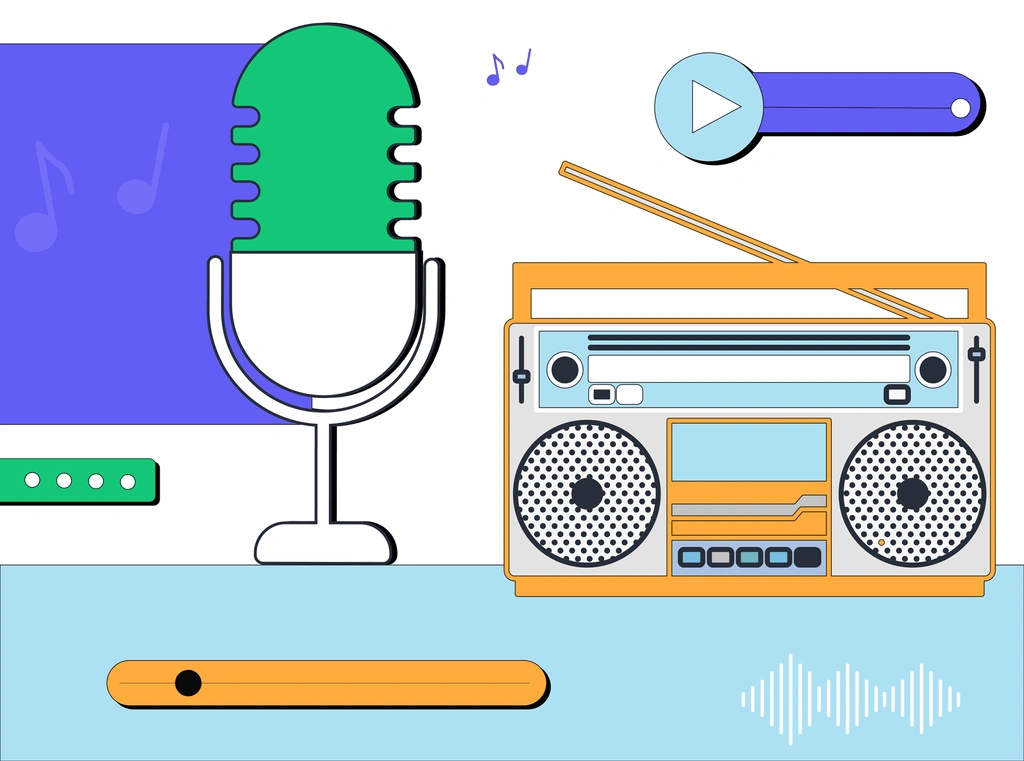 Free Sources for Podcast Music
Sometimes, starting a podcast is a pretty spontaneous decision. You start it for your uni project, to impress the instructors and have fun while on it, and all of a sudden, it becomes your true passion. You wake up every day with one thought in your mind: what type of episode should you record this time?

The thing is that even if you're the most passionate host in the world, you still may not want to spend too much money on your show. And we get it: maybe you want to keep podcasting as a hobby or simply do not have enough resources to spare on the show.

It does not mean, though, that you should economize on podcast music. You can still find some pretty decent tracks for free and make your show more entertaining.

The only downside of free resources is that it can be used in many other shows: if it's free, you can expect other podcasters to find it easily too. But still, it is way better to have a track that has been used in some other shows than to have none at all.

So, here are some places to find top royalty-free music and not pay a penny for it.
Although Podcastle is mainly an audio content creation platform, it also offers many royalty-free music tracks that you can use for free. Here, you'll find intro tracks, outro tracks, and even some tunes to separate your segments.

The best part is that it's right where you need it to be; you don't need to download anything. Instead, you just start your project, open the library, and boom: a bunch of royalty-free tracks exclusively for Podcastle users is waiting for you.

By the way, Podcastle is also a great podcast audio editing software that offers many fun AI-powered features. For example, you can transcribe your track in just a few seconds with speech-to-text software. The tool also works as a text-to-speech converter. With it, you can revoice the text with some cool AI voice skins.
Videvo offers great music for use in your next project. Users can select music from many different genres, such as Blues, Classic, Rock, Jazz, and Wedding. Many music files have a royalty-free license. Files under this license can be used in as many projects as you want for as long as you like. However, this licensing does not confer full ownership to you, so the copyright remains with the creator.
For those among you who have also looked for copyright-free images before, Pixabay should already be familiar. They are mostly known for their royalty-free images, but luckily for podcasters, they now also offer completely free-to-use music tracks that do not require credits.

The best thing about Pixabay is that you'll find the perfect track without much effort. They have a filter on the left side of the page to sort the available songs according to the genre, movement, or even mood. Their library is pretty extensive and has diverse tunes. So, even if you're pretty picky, you're sure to find something that would match your taste.
Free Music Archive is exactly what the name suggests: an archive of free music. It collects music from hundreds of curators and artists and offers them all on its platform. Just like Pixabay, it has a pretty decent UI and is very easy to navigate through. All tracks are absolutely free, and you don't need to credit any of them.

Another cool thing about Free Music Archive is that it also shows the chart listings of the site's most beloved tracks for the last year, month, or week. And if the tracks have made it to this chart, it usually means they have higher audio quality and, in general, have a more flattering tune. In other words, these charts save a lot of time allowing you to skim through the tracks instead of listening to all of them one by one.
Paid Sources for Podcast Music
Now, let's switch to the paid options of royalty-free music for podcasts. If you are able to afford paid tracks, then they are undoubtedly the better choice. The thing about paid sources is that they usually offer better quality and give more options.

Let's skim through some of the best-paid sources:
Founded in 2011, Musicbed is one of the leaders in the market of premium music. Most of the tracks are created by top musicians, and with a paid subscription you can access them all.
Another subscription-based platform that offers good music for podcasts is Soundstripe. Although it does not provide as extensive of a library as Musicbed, it is still a pretty decent option, especially considering the fact that the price is way more affordable.

No matter what the mood of your project is, you can find everything here: from advertisement tracks to radio ones. But, again, to have access to the entire library, you need a subscription.
Finally, the last one on our list is Premiumbeat. Here you don't need an entire subscription to get your favorite track. It works on a pay-for-track basis. So, if you simply need one track for your whole show and will probably never come back for music again, Premiumbeat is one of the best options. With more than 17,000 songs in 26 different genres, you're sure to find the perfect tune.
To sum up,
A podcast does not feel complete if it does not have music in it. The sad truth is that not all podcasters are musicians, so not all shows will have the most original tune, exclusively designed for that podcast. However, you can still find a pretty decent alternative with royalty-free music and audio tracks by skimming through some of the best free and paid sources.

So get your headphones on and prepare to go through a long musical journey until you come across that one ideal track, listening to which you'll instantly think: "That's the one."