If you aren't in the field of design, you still interact with digital products to some extent. Whatever your case is, the best UI/UX podcasts in this list will bring you the perfect blend of information, advice, and laughs. Remove the "UI/UX" cause these are truly entertaining and are just as loved by people outside the design community. Are you a designer that has found the perfect podcast recording platform and wants to kick off their own show? The journey into podcast culture starts with learning from the best UI/UX podcasts.
1. UI Breakfast
Breakfast is the first meal of the day, and UI Breakfast is the first on our list of UI/UX podcasts. Now, please forget that joke ever happened, and let's figure out how this podcast is still as hot and trending as it was back in 2013. Jane Portman, the host, has a lot of insights to share considering her extensive experience in UI/UX and product strategy; hosting two podcast shows, writing articles, books, and managing various products. Together with Jane and her expert guests, you will explore design, SaaS products, marketing, and much more. If the psychology behind good website copy and addictive products sounds interesting, then you should definitely tune into this feast of informative and compelling discussions.
2. Design Matters with Debbie Millman
Founded in 2005 by American designer, writer, and artist Debbie Millman, Design Matters is pretty much the first and longest-running podcast about design. There are over 200 episodes of this award-winning show; explore the creative mindsets of designers, curators, musicians, and all kinds of talented luminaries. One of the best things about this podcast format is that it's not just about victories, but also failures. It's particularly great if you're trying to water down any other technically overwhelming podcasts or educational materials.
The host gets as far as the guests' childhood years and inspiring coming-of-age stories.
Debbie is devoted to getting deep into the creative condition of her guests. It makes the show incredibly intimate and encouraging to anyone that is struggling with their career, in arts particularly. As the show's signature tagline states at the end of each episode, we can talk about making a difference, we can make a difference, or we can do both. And one thing that you can actually do right now, gives this iconic podcast a listen.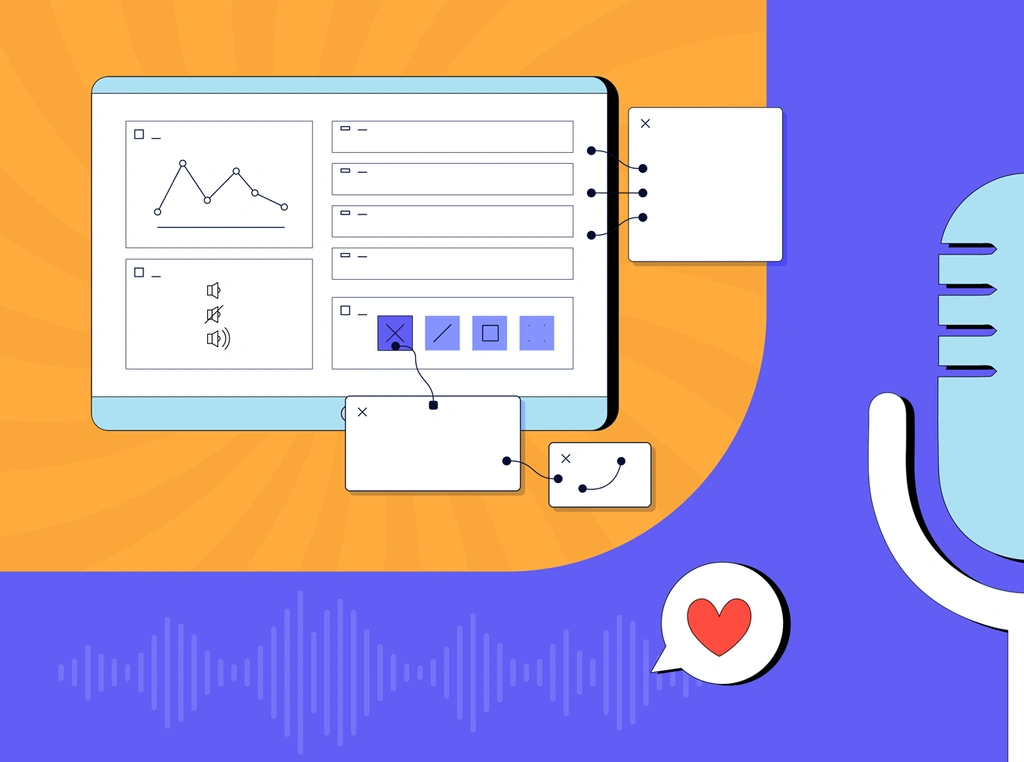 3. Hacking UI
Hosted by designers, developers, entrepreneurs Sagi Shrieber and David Tintner, next on our list is Hacking UI. Both Sagi and  David are productivity enthusiasts; they definitely know how to teach a lesson and not waste a minute of your time.
The three seasons of the show go as follows: 'Scaling a Design Team,' 'Scaling a Side Project,' 'Scaling a Career.' In the first season, you'll get to hear from design leaders of companies like Facebook, Apple, Intercom.
Here you'll learn about their workflows and structures. In the second season, for which Sagi and David became full-time podcasters, the focus is now on creative entrepreneurs and founders of top-notch companies. And season three is all about creative entrepreneurship and the skills necessary for building up your brand. Sounds interesting?
4.  What Is Wrong with UX
If you're looking for a fresh podcast format, passionate arguments over user experience nuances, and a drink pairing to go with each episode, What Is Wrong with UX sounds like it. "Laughing since Episode 1" and "Laughing in traffic" are the second most important reviews you should consider after "Straight up actionable advice." With their raw and oftentimes hilarious take on design and product industries, Laura Klein and Kate Rutter have made their arguments around design one of the must-listen UX/UI podcasts. It's a lot like hanging out with smart people who will make your day AND share truly insightful and entertaining perspectives on design.
5. High Resolution
Hosted by Bobby Ghoshal and Jared Erondu, these video podcast series introduce you to the design industry's 25 greatest luminaries. In just 25 episodes High Resolution brings clarity to some of the biggest companies' approaches and deployment of design; all done through deep and captivating conversations with change-makers from Google, Facebook, Spotify, Airbnb, Behance, Ebay. And the good thing about this series is that it's on YouTube. So next time you're binging on TikTok compilations or mukbangs, give High Resolution a chance; it's much better to entertain and educate yourself all at once.
If you'd prefer to switch roles from a podcast listener to a podcast creator, nowadays, it's super easy with a free podcast creation platform. And Podcastle is here to help you with our podcast audio editing software. Yet, before you pursue your own passions, it may be useful to check out how others did it. Other than being useful, it's also fun, we promise.