Before proceeding to our list of budget level podcast microphones, let us start with an ode to modern audio content creation platforms. Thanks to advanced podcast editing software that exists nowadays, podcasting equipment comes much later, yet, not last. The editing tools, including the ones on Podcastle, fix most of the major and not so major recording issues. However, in case your show budget level allows it, there's absolutely no reason to not step up your recording game with podcast microphones.
We've prepared a list of budget level podcast microphones just in case an AI powered podcast platform isn't enough for you.
Types of microphones
We'll skip the buzzwords and get right to the gist of it. When choosing a podcast microphone there are two things you'll need to consider: dynamics or condensers, and either XLR or USB connected.
Dynamic vs condenser
Dynamic microphones are great for the outdoors and any environment really. They don't require any external power and can be plugged straight into any audio interface.
If you're recording your podcast episode in a studio, go with a condenser mic. These ones do a great job capturing the richness in the voices. If your condenser is also connected via XLR, you'll also need phantom power. Another downside is that with the richness also comes ambient noise. While you can edit out some of the disruptions with podcast audio editing software, as you can see there are a lot more nuances when it comes to condenser mics.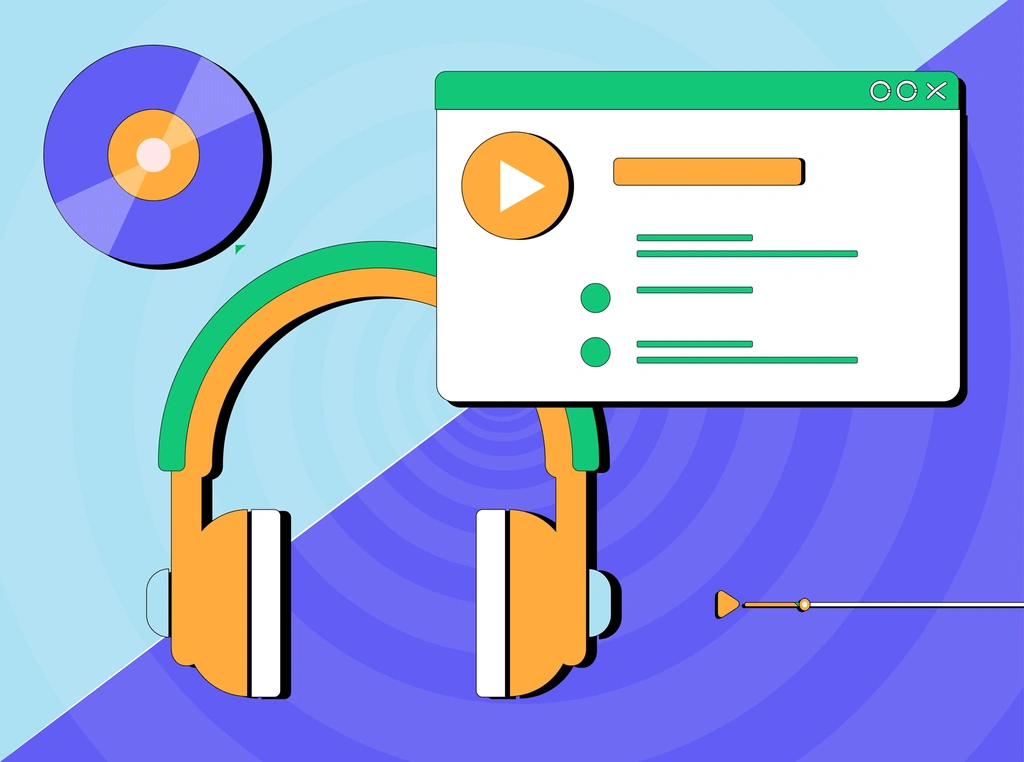 XLR vs USB
When it comes to plugging your podcast microphone into something before you start recording, there are two ways to go about it.
USB mics, on the contrary, don't require much experience with sound. You plug them into your laptop, hit record on the podcast recording platform and you're all set. The simplicity and affordability make these mics a great choice regardless of your setup. That being said, Windows PC isn't performing that well when it comes to handling several USB audio source connections.
That's why in more advanced setups and situations we'd suggest going with an XLR connector. While it requires more equipment and knowledge, you have more freedom in the number of microphones you can use.
Luckily, there's a good-quality podcast microphone for every route you choose!
Here are our suggestions on all possible types of podcast microphones for any budget and expectations.
Shure SM7B
Price: $399
Connection: XLR
Type: Dynamic
Includes: Microphone, windscreen
Shure is a true superstar in the world of podcasting. As a dynamic microphone, Shure SM7B handles loud environments amazingly. This microphone doesn't emphasize any of the frequencies giving you clean audio that sounds exactly like it did during the recording.
Shure MV7
Price: $249
Connection: USB, XLR
Type: Dynamic
Includes: Microphone, cables
We got another masterpiece from Shure. Remember what we said about connection types? This one can do USB and XLR, in addition to all the advantages of the previous mic. This is the case where versatility doesn't affect the quality.
Audio-Technica AT2035PK
Price: $199
Connection: XLR
Type: Condenser
Includes: Microphone, headphones, boom arm, XLR cable
Just as respected in audio production, Audio-Technica AT2035PK does a great job isolating the sound; you may even leave Podcastle's Magic Dust tool aside with this one. This mid-range condenser mic's pickup pattern neglects pretty much any sound that doesn't belong in your show.
Blue Microphones Yeti USB
Price: $129
Connection: USB
Type: Condenser
Includes: Microphone, stand
From gaming streamers to YouTubers, Blue microphones satisfy everyone's creative requirements. The Yeti microphone is a regular in podcast microphone recommendations and for quite a good reason. One of the coolest features of this mic is its customizable patterns. It can pick up audio from both wider and narrower angles, the latter makes it perfect for solo podcasting. And the wider pick-up pattern will come in handy if you ever decide to record group sessions. After all, ensuring a comfortable recording setup is one of the steps for conducting better podcast interviews.
Considering the price, this bad boy is a true bargain. With the everchanging podcasting landscape, Blue doesn't waste time; there's a Yeti model capable of USB/XLR output. Whatever you need, Blue has it.
Razer Seiren X
Price: $99
Connection: USB
Type: Condenser
Includes: Microphone, stand
Plug and play—that's all the time that gamers and streamers are willing to spend when setting up their podcast microphone. Gaming brands have figured that as they make their way into audio technology. That's the origin story of Razer Seiren X that has just as much to offer to podcasters. With its super-cardioid polar pattern, you don't have to worry about anything that's happening behind the door. Thanks to the adjustable base you're able to record at the ideal angle whichever it might be.
Blue Microphones Snowball
Price: $49
Connection: USB
Type: Condenser
Includes: Microphone, stand
The smallest and the best value podcast microphone on our list doesn't disappoint. Its main mission is to improve audio during calls, so you obviously can't expect the same quality as from its more expensive alternatives. Yet, this funky microphone is still a great pick for novice podcasters who don't want to break the bank. Plus, whatever you saved up on can be fixed in post-production with the help of a free podcast creation platform.
These were only a few of the best podcast microphones—thanks to the growing popularity of audio content there is no scarcity of technology for creating it. We don't want you to feel overwhelmed with choices. After all, the content is what your guests will be coming for, so don't be scared to start out with a cheap podcast microphone while you focus on writing entertaining podcast episodes. Considering the tools that audio content creation platforms offer, you can even try unlocking your smartphone's or tablet's recording potential before purchasing any expensive equipment. And once your show starts bringing you revenue, feel free to level up your gear and go as big as you want.