The easiest way to convert your video to audio is through Podcastle. Sign into Podcastle with your Google, Facebook or Apple account and click on the Create button from your homepage. From there, choose New Project and you'll be transferred to Podcastle's audio editor.

Sign up for Podcastle AI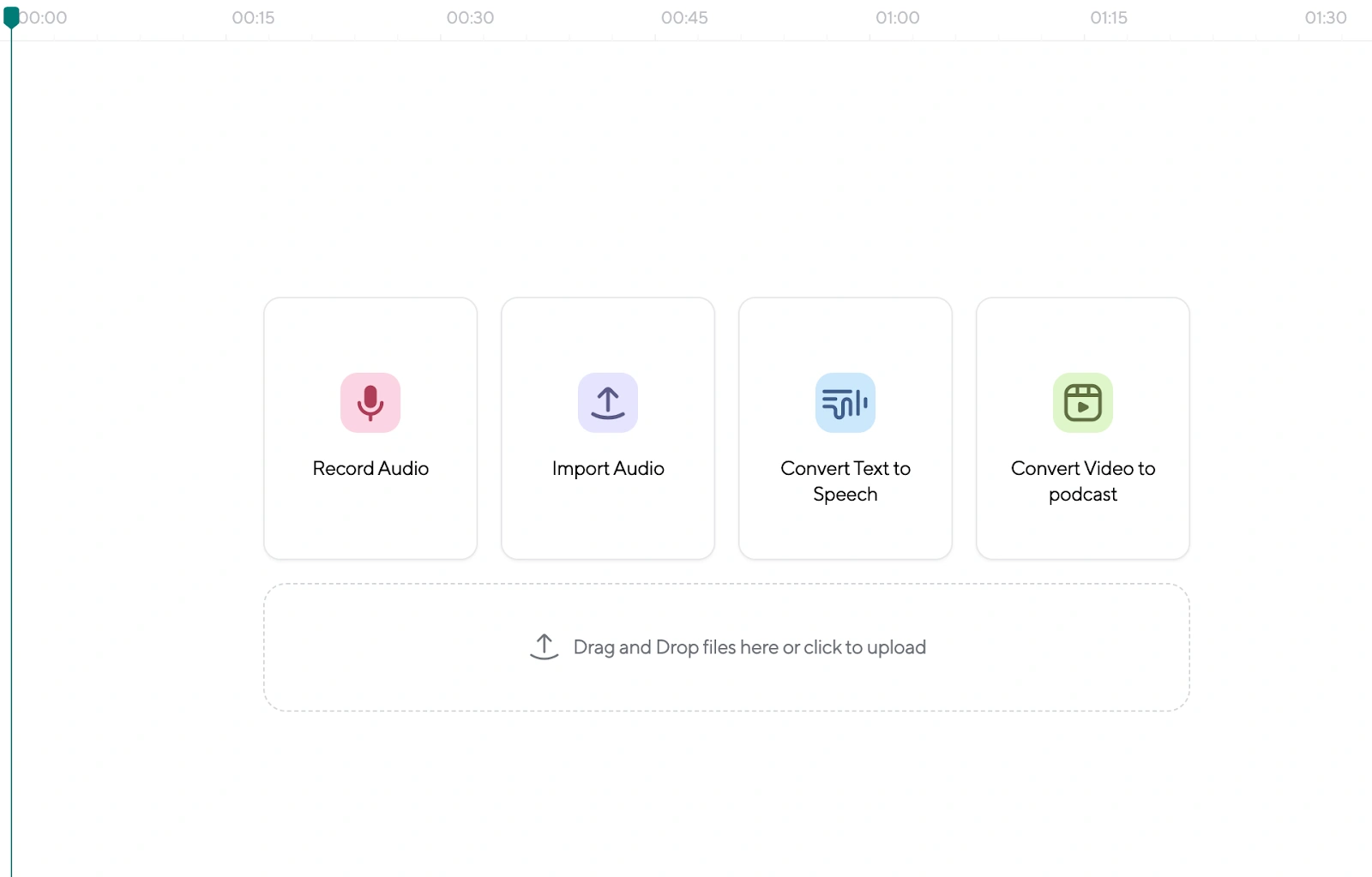 Once there, you'll see the Convert Video to Podcast option. That's pretty much all you need to turn your video to audio! Just select the video you want to convert from your computer and Podcastle will do the work for you. In just a couple of minutes, you'll have your video converted. So, export your final audio file and enjoy.

For a more complete guide, check out our help article.
Convert Video to Audio Software
Some other software that help to convert video to audio includes:

OnlineVideoConverter (OVC): OnlineVideoConverter is a popular web-based tool that allows you to convert videos from various online platforms like YouTube to audio formats such as MP3, AAC, and more. Simply paste the video URL, choose your desired audio format, and click the "Start" button to convert.

Audacity: Audacity is a versatile open-source audio editing software suitable for converting video to audio, offering user-friendly tools and export options. While it's primarily known for its audio editing capabilities, it can be used effectively for video to audio conversions as well.

FreeConvert: FreeConvert is a user-friendly online tool that can convert video files to audio formats, including MP3, WAV, and more. It supports a variety of input video formats and provides straightforward conversion options.
How to Make a Video into an Audio File on Desktop
If you prefer to do the conversion offline, we have you covered too. Here's what you'll need to do to transform your video into audio using either a MacBook or Windows.
For MacBook Users:

Method 1: Using QuickTime Player

Open QuickTime Player: QuickTime Player is a built-in application on macOS. You can find it in the "Applications" folder or search for it using Spotlight.

Open Your Video: Click on "File" in the menu bar and select "Open File." Locate and select the video you want to convert.

Select Export as Audio: Once your video is open, click on "File" again, but this time select "Export As" and then choose "Audio Only."

Choose Audio Format: A window will appear where you can choose the format and quality of the audio. Select your preferred options and click "Save."

Name and Save: Give your audio file a name and choose where you want to save it. Click "Save," and QuickTime Player will start the conversion process.

Once the conversion is finished, you'll have an audio file ready to use.
For Windows Users:
Download VLC: If you don't already have VLC Media Player installed, you can download it for free from the VLC website.

Open VLC: Launch VLC Media Player on your MacBook.

Import Your Video: Click "Media>Convert/Save" on the menu bar and on the new window stay at the "File" section and upload the video you want to convert by clicking on the "+Add '' button.

Choose Audio Format: In the "Convert" window, select the audio format you want (e.g., MP3, AAC) from the Profile dropdown menu.

Specify Destination: Under "Destination," click on the "Browse" button to choose where to save the audio file.

Start Conversion: Click the "Start" button to begin the conversion process. VLC will convert the video into an audio file.

Once the conversion is done, you'll find your audio file in the specified destination folder.By the way, you can also download VLC to your MacBook, in case you prefer it over the QuickTime media player.
Convert Video to Audio: iPhone Version
Sometimes you need to convert your video to audio on the go, and all you have by hand is an iPhone. But is it possible to turn your video file into an audio file with only a phone? Yes, it is, we say. And it's also pretty simple! Here is how to make a video an audio file on iPhone in only a few easy steps:
Use a Dedicated Video to Audio Converter App
There are several apps available on the App Store that are specifically designed for converting videos to audio files. One popular option is the Video to MP3 Converter app.

Here's how to use it:

Download and Install the Video to MP3 Converter: Open the App Store on your iPhone.Search for "Video to MP3 Converter" and download the app.Install the app on your device.

Launch the App: Open the "Video to MP3 Converter" app on your iPhone.

Select the Video: Tap the video icon to choose the video you want to convert. You can select videos from your Camera Roll or other storage locations on your device.

Convert Audio: Click on the video and choose the Convert Audio option. It will forward you to the converted audio file. Click on the button below the Play icon and choose either to Convert to MP3 or Convert to M4A.

Save the Audio File: Once the conversion is complete, the app will show your audio file separately on your dashboard. Click on it and choose the Open In option to save it on your device.

After saving, you can access the audio file in the location you specified.
Final Thoughts
To sum it up, converting a video into an audio file is a straightforward process. You can use online tools like Podcastle, dedicated apps, or even built-in software like QuickTime Player or VLC on your computer. If you're on your iPhone, there are apps designed for this purpose too. Whether it's for enjoying music on the go or extracting audio for a project, turning video into audio is easy and accessible. Give it a try, and you'll be able to handle this task with ease.